If you have a story to share here about your Pei adopted from Shar-Pei Rescue of Virginia, please email photos and stories to us. Thank you for giving these wonderful Shar-Pei a second chance and for providing a loving, forever home.

Enjoy the "Hap-Pei" Ending stories!
More Hap-Pei Endings:
Page 1
-
Page 2
-
Page 3
-
Page 4
-
Page 5
- Page 6 -
Page 7
-
Page 8
-
Page 9
-
Page 10
Dudley (aka Bronco)
Bronco is now called Dudley and is enjoying his new home in South Carolina.

Sara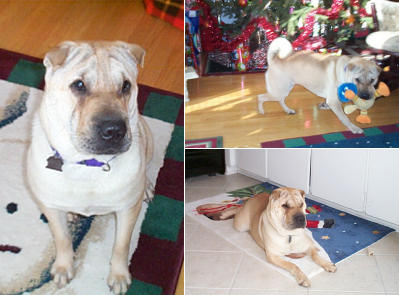 Sara has settled into her new home in Canada and is doing great.

Delilah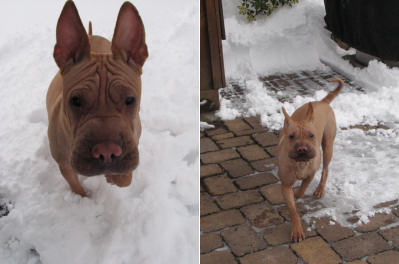 Delilah is very happy in her forever home. Her mom bakes homemade dog treats!

Annabelle
Annabelle was adopted into a wonderful home in Georgia. Sadly, beautiful Annabelle crossed the Rainbow Bridge due to cancer in November 2010. She was so loved in her home and had her loving family to help her cross the bridge. RIP Annabelle.

Leilah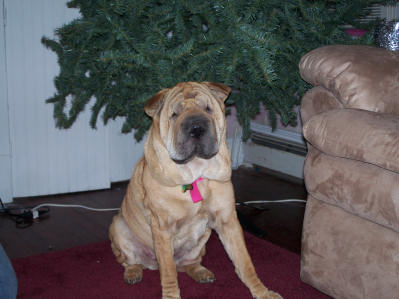 In 2007 we adopted the most wonderful dog a family could ever have - Leilah. Just wanted to say that after three years, things are still wonderful. She is the best family pet. We just had a new baby and Leilah is so gentle and good with her.
~ Troy and Moriah

Pearl-Anne

Hi, I'm Pearl Anne (aka Pearl Jam), a deaf rescue Shar-Pei adopted from Shar-Pei Rescue of Virginia. I am a very sweet girl. I have a new brother, James P. "Sulley" Sullivan, and a cousin, Genghis, both of whom are also Shar-Pei.

Nobody's exactly sure how old I am, so we're picking December 15 as my birthday and calling me six years old on that date. It appears that I had at least one litter (maybe more) in my prior life. Otherwise, I am a dog of mystery regarding my past. I am having some difficulty walking, maybe from joint problems or arthritis, so we're working on getting my weight down (sigh!). But I love to go for walks -- as long as it's not raining, because what if I melt in the rain?!?

I am very smart and seem to know or at least figure out hand signals. Especially for the ones that mean "treat" and "walk." ;-)

I'm very cuddly and sweet. My new family is thrilled to have me!

Meeko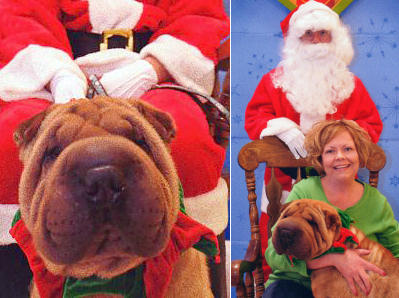 Meeko was adopted in 2009 and lives in Portsmouth, Virginia. After being abandoned at a shelter on Christmas Eve, Meeko was rescued and was later adopted by his foster mom. He's a very happy boy and is enjoying lots of treats and an endless supply of his mom's socks! Meeko shared his Letter to Santa with us in 2009.

Storm (fka Darla)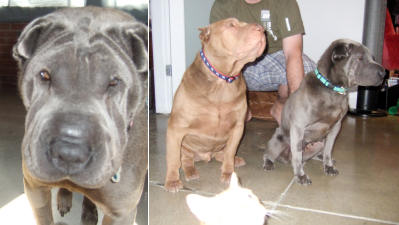 Storm (formerly Darla) is very happy in her new home with her canine brother Max and a cat named Mr. Pimms.

Gator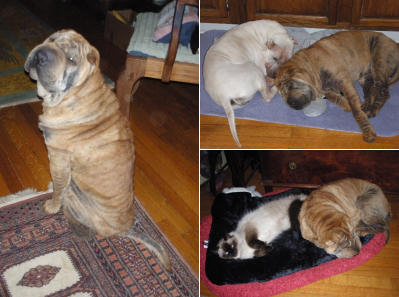 We have truly been enjoying Gator, and he's doing very well. On walks, he's met neighbors who are very impressed with his steller personality. His coat is filling in especially on his back. The cat, Tinkerbell, has befriended him and he actually gives her nose nudges. Of course, he's been a great playmate for Angel. After she tuckers him out with wrestling or running around the yard, he settles down for long naps on her bed. We got two more so there is no quarreling. But, he prefers her old red bed.
~ Nancy

Bear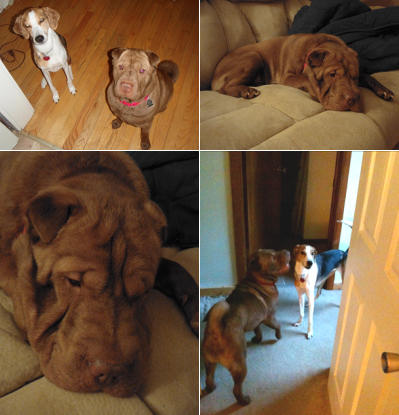 Bear has found his fur-ever home in North Carolina, where he is enjoying the good life with his canine brother Neko.

Krinkles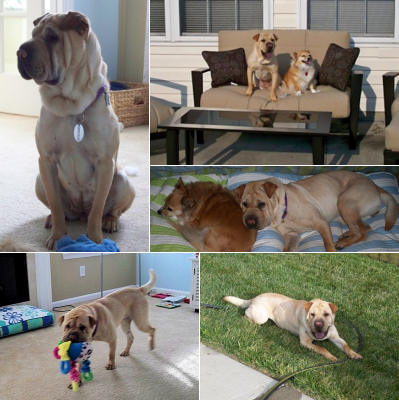 Krinkles loves playing outside with her new family and canine sister Ruby. She always has a toy in her mouth and has a whole collection of comfy dog beds to snuggle up on (as well as the patio furniture!).

Amber

Amber is doing very well in her new home. She has made her place in the house and is attached to everyone. She is pictured with her canine brother, Teagan.

Mini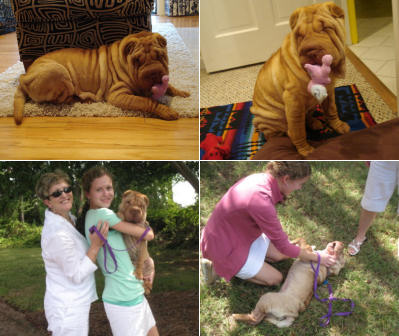 Mini is adjusting very nicely to her new home. She loves being on the screened-in back porch at her new house. She lays out there for hours!

Sandy, Rusty, and Harley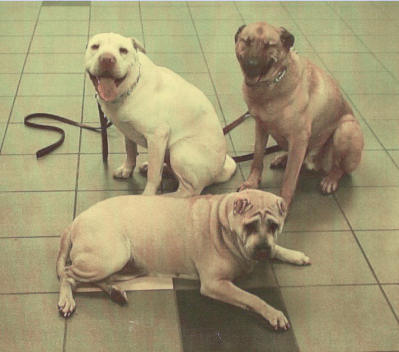 Sandy is now eight years old. She is getting more and more wrinkles but loving life. She lays around and rules the boys and keeps them in line; she is a good momma. She went from heartworm positive to heartworm negative now and is a precious baby doll.

Rusty is six years old and thinks he is the dad, and he now is going through a bully stage. He is quite a charmer with the girls. He is still a momma's boy because we raised him since he was a puppy. Sandy believes that he is her son so their bond is very strong, and Rusty is very attached to her.

Harley is two years old and our third baby. He is our youngest and craziest Pei. He has all of the habits that Rusty used to have and grew out of. Harley was named by my daughter. He was in so many different homes that when he arrived with us he had no manners, did not like females, was scared of being alone and a lot of noises scared him. In two years, he has overcome most of his fears, minus some noises; and sometimes if one of us leaves, we have to reassure him that we will come back to him.

In the photo, the one in front is Sandy, the one to the right is Rusty and to the left is Harley.

I personally want to thank Tracey for helping our family find all three of our Pei. They are all wonderful and they will all live out a long happy life with us like all animals should live.

P.S. They also have 4 cats and a hamster to share their forever home with.
~ Valorie, Jim and Ashley

Boo Boo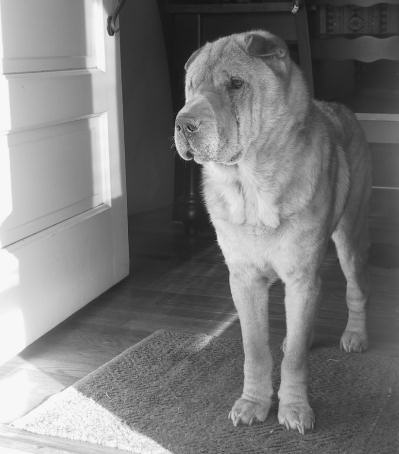 Boo Boo was my 2nd foster through the Shar-Pei Rescue of Virginia. His previous owners boarded him at the vet, gave all false information and never came back for him. When I picked him up during transport, I knew something wasn't quite right. I watched him drink water for about two minutes. I knew he had kidney issues immediately. Our vet confirmed he did have kidney failure. That was two years ago. Having Boo Boo as part of my family has allowed me to further my knowledge in caring for a dog with this disease, and it has allowed me to get more involved in natural treatment of the disease through Chinese Herbs. Although his kidney values now indicate renal failure, Boo Boo doesn't seem to know it. He runs through the house playing with his many toys acting every bit a puppy in spite of what the numbers say. He has never been as energetic as he is now. He gets along beautifully with all of his other Pei brothers and sisters. He is a wonderful dog and every day with him is both a gift and a blessing.
~ Lori

Rosie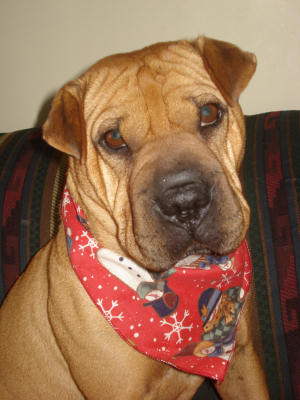 Hi, I'm Rosie. I am a six-year-old Shar-Pei mix. The people at Shar-Pei Rescue rescued me and my puppies from an animal shelter in North Carolina. A nice family fostered me with intentions of keeping me forever. However, the foster mom had medical problems and the family couldn't keep me. Another nice lady, Kristi, took me into her home. She had recently lost her Shar-Pei of nearly 14 years and was fostering other dogs like me. She never thought she could love a dog as much as that one, but I was convinced that I was going to change that. I turned on my charm and wiggled my way into her and her family's hearts within no time at all. I also managed to wiggle my way on to the couch (and claimed it as my own), and I wiggled my way on to their laps. Yes, that's right, I am a lap dog and proud of it! What I am most proud of however, is that there are wonderful people like Shar-Pei Rescue that take the time out of their busy schedules to help dogs like me find our forever families! I am grateful to them, and my forever family is even more grateful! If they made hats for dogs, I would most certainly tip it to Shar-Pei Rescue of VA!
~ Rosie (with a little help from Kristi)

Deuce (aka Boudreaux)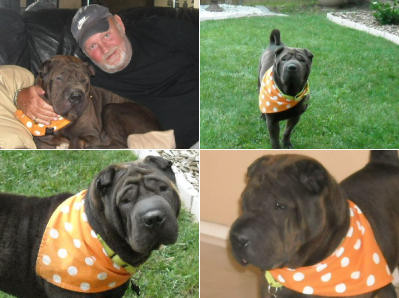 Boudreaux, whose new name is Deuce, is doing great at his new home. He's a very happy dog who loves to play with his toys. We are glad to have him as part of our family.

Bailey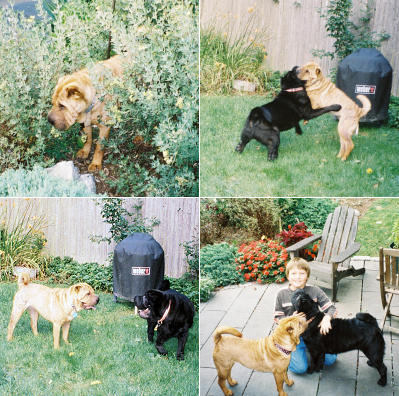 Bailey is enjoying playing in the yard and exploring the garden at her new home. She is having a great time with her new Shar-Pei brother.

Jackie and Tikki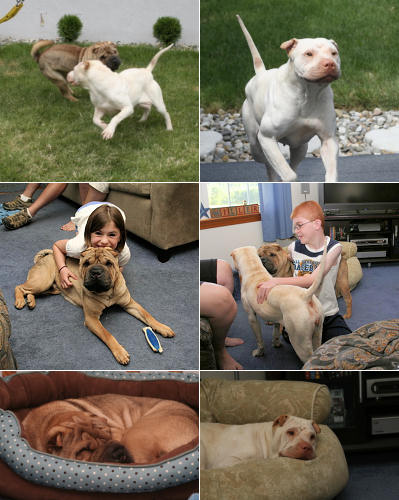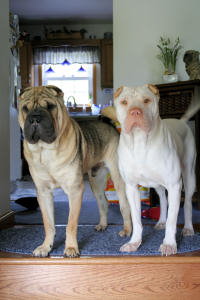 Jackie and Tikki were adopted together. They are having a great time playing together in their new yard and are enjoying their new family!

More Hap-Pei Endings:
Page 1
-
Page 2
-
Page 3
-
Page 4
-
Page 5
- Page 6 -
Page 7
-
Page 8
-
Page 9
-
Page 10