If you have a story to share here about your Pei adopted from Shar-Pei Rescue of Virginia, please email photos and stories to us. Thank you for giving these wonderful Shar-Pei a second chance and for providing a loving, forever home.

Enjoy the "Hap-Pei" Ending stories!
More Hap-Pei Endings:
Page 1
-
Page 2
- Page 3 -
Page 4
-
Page 5
-
Page 6
-
Page 7
-
Page 8
-
Page 9
-
Page 10
Bubbie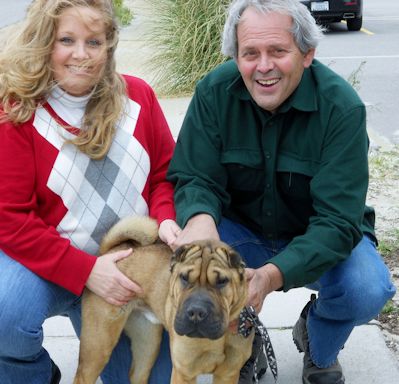 A very hap-pei Bubbie, is at home with his new family in Chester, VA!

Chaia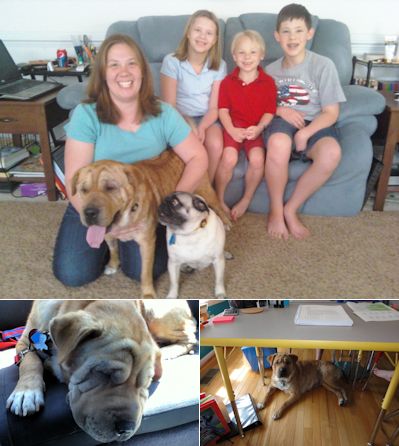 Chaia has been adopted by an active family in Chesapeake, VA, where they are spoiling her rotten. She is very happy and thinks she has gone to heaven! She shares her new digs with two-legged brothers and a sister, a four-legged brother named Festis, a family cat and of course mom and dad. She is having a ball playing with the kids and chasing Festis around the house. Then, when she is all tired out, she catches some snuggle time on the couch.

Max
Max is enjoying his new life in Virginia Beach where he is loved very much. His mom says "Max loves going on adventures with his new momma!"

Clyde (previously Brutus)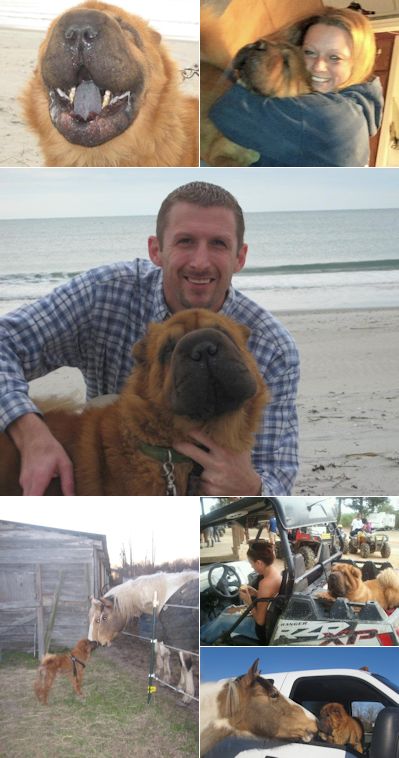 I met Brutus, now officially known as Clyde, in January 2011, thanks to Deb Embry, Mike Leis and the Shar-Pei Rescue of VA and thought it was about time to share with ya'll how he is doing. When we picked him up his coat was a mess and his ears were sore, but his spirit was one you would love right away! With some meds, a few baths, and good diet, which took me months to figure out, he has put on 15 pounds and is absolutely gorgeous! We cannot go anywhere without everyone asking about him. He gives me hugs everyday when I get home. We travel what seems to be these days about every weekend, and he settles in well everywhere we go. He loves to ride four wheelers, he loves all other animals and only wants to snuggle with them, he loves to hang his nose out the window; and as bear coats are apparently known for, he loves to lay around and be lazy. He will actually climb into the bath tub on his own, a little frustrated at me for asking, but does it anyway, and waits patiently while he is blown dry. I just have to say he is for sure one of the loves of my life. Thank you for bringing him into my life!
~ Holly

Po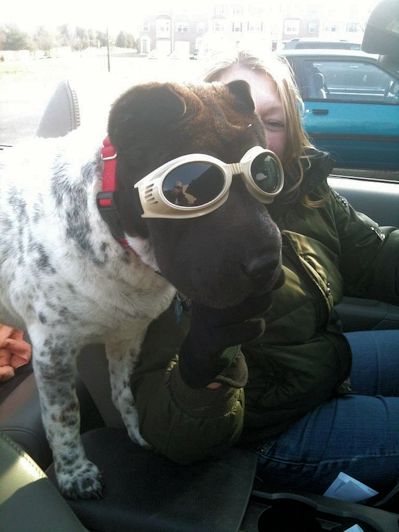 Look at Po! Cruising in his convertible with his new Mommy!

Gumbo and Angus (Bam)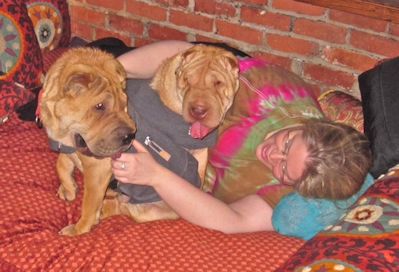 Very hap-pei Gumbo and Angus (previously Bam), both adopted 2012, with their new Mamma! We are so happy that they have found a perfect home together.

Molly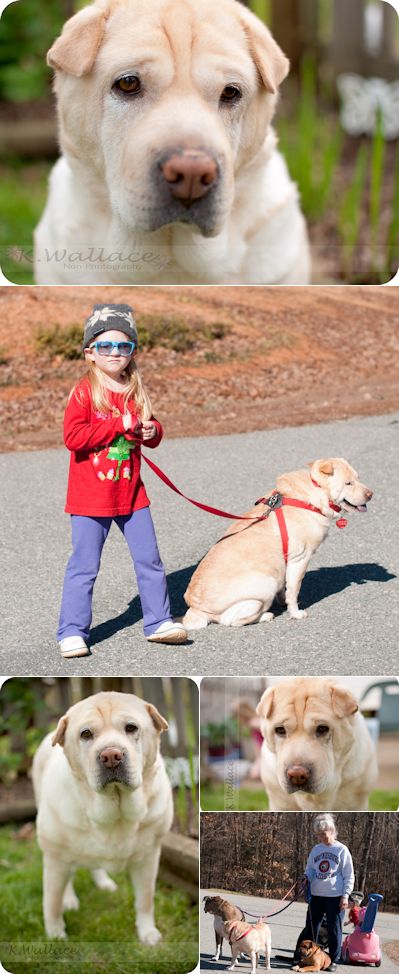 Look at beautiful Molly! She has recovered from her heartworm treatment and is now enjoying slow, happy walks with her new pack (humans and dogs).

Rusty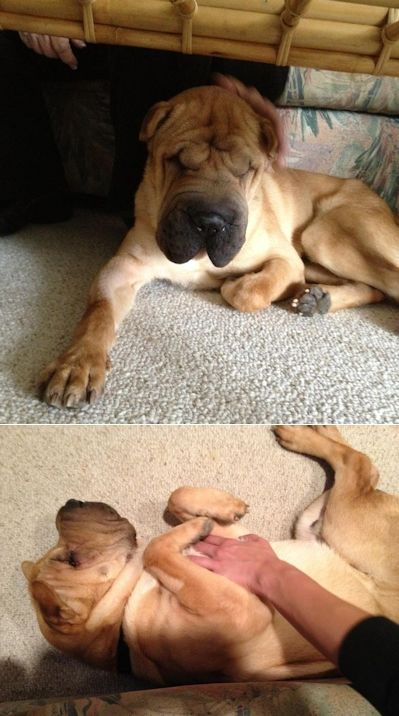 Rusty is all settled in at his new home where he is enjoying belly rubs and his favorite spot under the coffee table.

Hannah and Muggle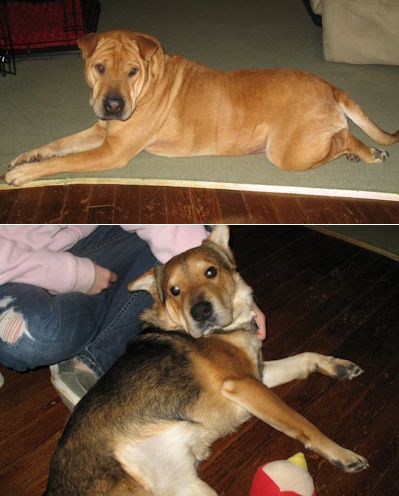 Hannah, adopted 2007, and Muggle, adopted 2009, and their family are hosts to many foster dogs!

Rocky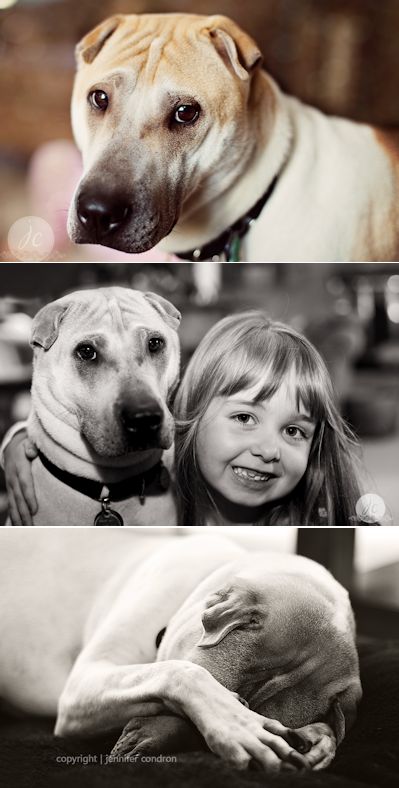 Look how handsome our Rocky looks...and happy too!

Handsome Dan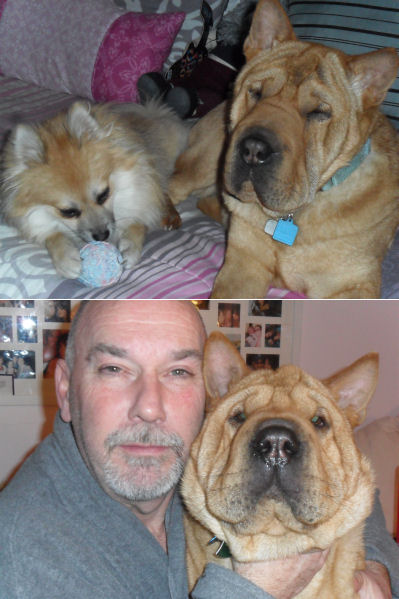 Handsome Dan Is loving his new home almost as much as we are loving him..That is his pal Chewy!
~ Denise & Tom

Yogi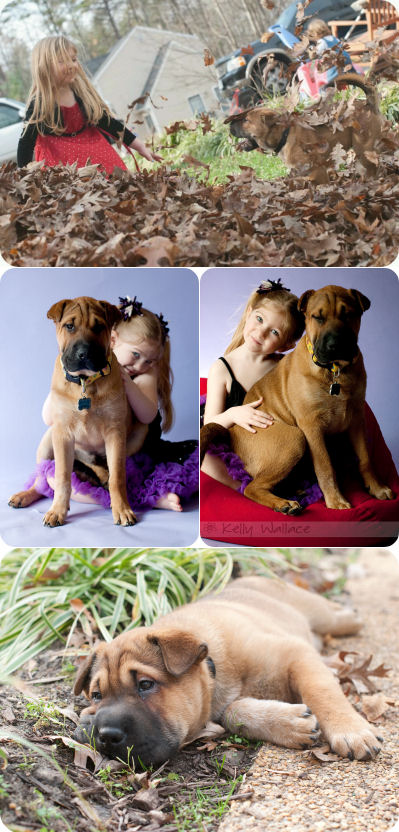 Adorable Yogi is loving his new home and his little girl! His mom says that he is "seriously a love and a true lap dog" :-)

Nino and Hershey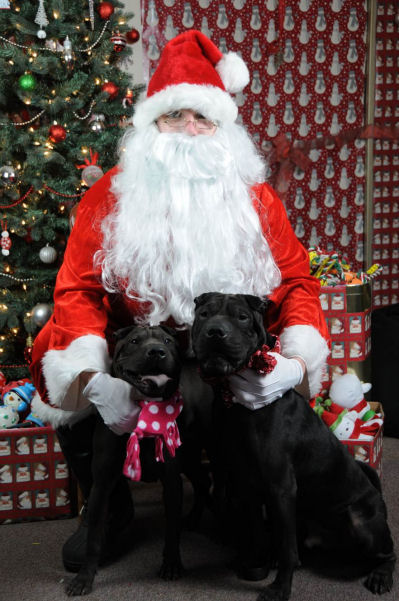 Hershey and Nino are doing better than fine! They are the talk of the neighborhood and are loved by their new Dad and all of his family and friends. Nino is filling out beautifully, very muscular, super handsome. He loves to lick his Dad's face. Hershey is the class clown, so adorable and cuddly and has become a lap dog!

Zoey and Archer (previously Tie Tie and Rusty)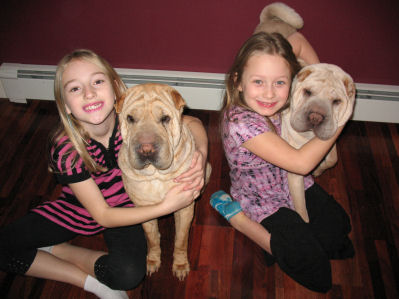 Zoey (left, previously Tie Tie) and Archer (right, previously Rusty) are so happy to have been adopted together. Here they are posing for the holiday photo with their adorable human siblings!

Bella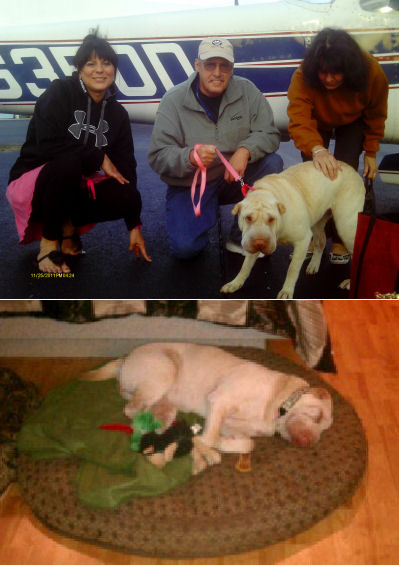 Bella was transported by Pilots N Paws to her new home in New Jersey. She is all settled in, comfy and loved.

Buck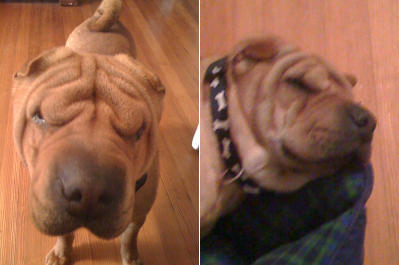 Buck's new family loves him! He has adapted very well to his new home. He likes to fetch and likes to be cuddled. He LOVES to sit on the couch with his family and watch TV - it's very funny.

Willow

Willow is doing great! She has put on a few pounds and has made herself right at home. Her and Oscar have become good companions and are almost always by each other's side :)
~ Wendy

Emmy and Chance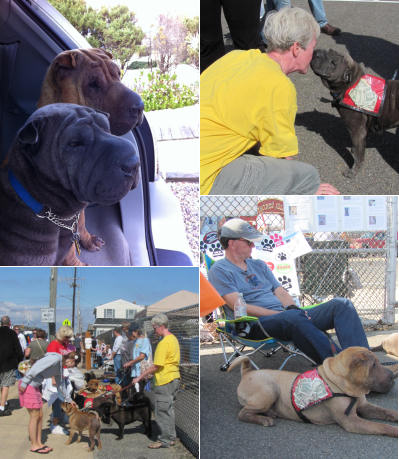 Emmy and Chance were both adopted from Shar-Pei Rescue of Virginia. Their Pei parents bring them to fundraising events to help raise money for other Pei in need. Emmy and Chance wear donation collection vests and are great ambassadors for the breed as people of all ages get to meet these two sweeties. Emmy starred in the Shar-Pei segment of the Dogs 101 show on Animal Planet.

Peaches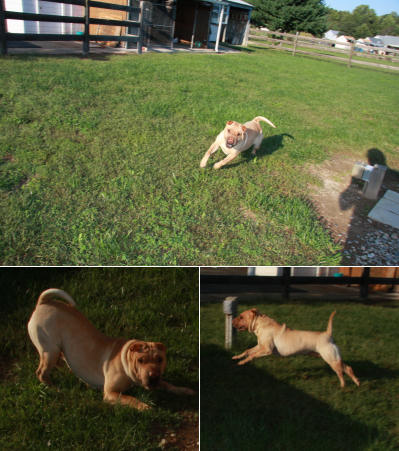 Look at Peaches! She loves the yard at her "furever" home. Her new family loves her!

Willis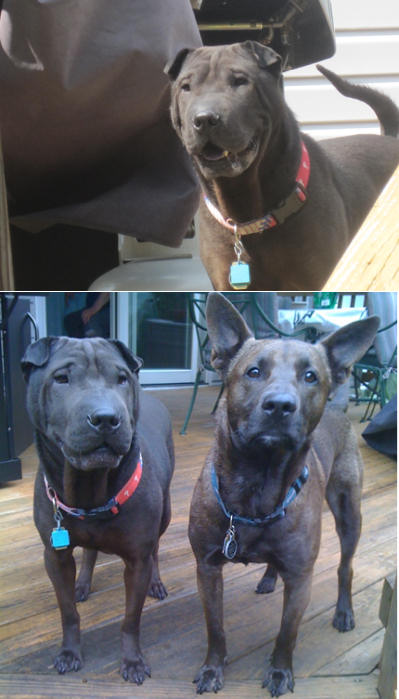 Hello, my name is Willis! I was adopted back in February 2011! My story is kind of funny, actually. At the time, I was living with my foster parents and they had a visit from their daughter and her husband. I was so glad to meet them and it turns out they really liked me! Next thing I knew, I was being adopted! It is so wonderful because not only do I now have a great home, but I still get to see my foster parents a lot.

In my new home, I have a brother! His name is Bishop, and he was also rescued just like me (although he is not a Shar-Pei). He is my best friend, and we get along really great and do everything together! Our yard is fenced in so we can run around and play, except I do not like when it is rainy and wet outside. Everyone tells me I have filled out nicely, and my vet says I look great and am really healthy. I love my new mommy and daddy; they take great care of me! I am even learning how to cuddle! My parents have lots of friends over too. At first I was a little unsure about strangers, but now I love people and get excited when mommy and daddy have friends over. The best part is it means even more attention for me and Bishop (and sometimes I even get presents like new toys or treats)!

Mommy and Daddy always say that I completed their family, and I am so happy with them here!

Blue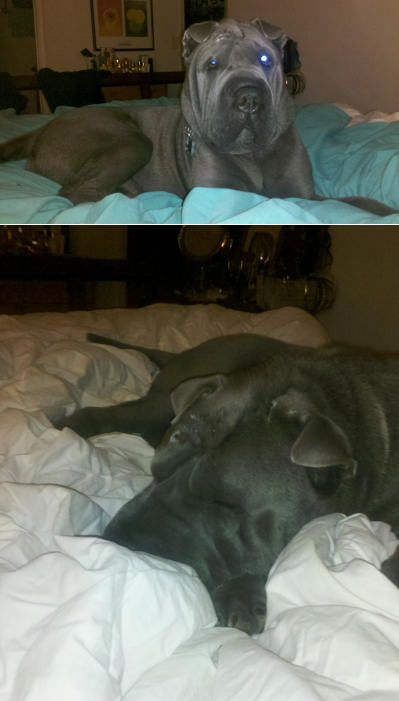 A very hap-pei Blue is making himself at home in his "furever" home in North Carolina!

Murphy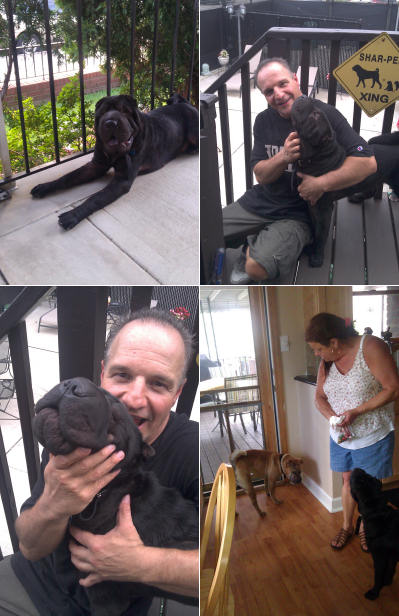 Murphy is all settled in at his new home in New York, where he has a Pei sibling, Ming. The adorable smushy faced Murphy looks great and is obviously loved and hap-pei!

Finster (previously Corona)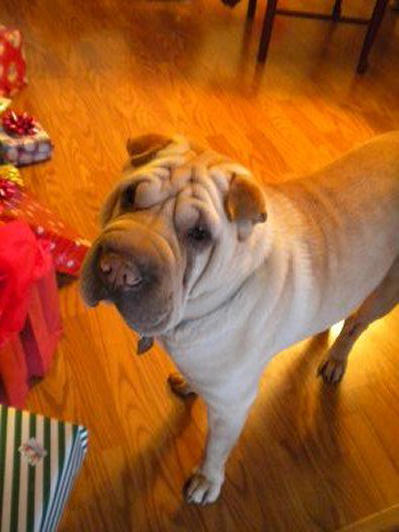 Corona, adopted in 2009, has a new name, Finster. He has been a life saver for his 13 year old Pei sibling, Butler, who is blind. They enjoy car rides and walks to the park together. Finster is a loyal and protective Pei and is loved dearly.

Meikah

Meikah came into rescue as a tiny pup with her littermates. She is now living happily with her new Pei siblings in Virginia Beach. She is shown in the pictures with Bubba (fawn), Lei Lei (lilac), and Lady (Rotti-Pei mix). Lady crossed the Rainbow Bridge in June of 2011.

Jake (aka Rebel)
Rebel has settled in at his new home in Maryland and has a new name, Jake, to start off his new life. He mastered the doggie door on day one and gets along fine with his canine sibling, Gigi. Jake loves to play with his toys, play tug of war with Gigi, and sleep! He also sticks to his new Mom like glue.

Update 12/28/2011: Jake's Mom sent us a holiday update with some cute new photos. He has learned how to sit and lay on command, he comes when called and has learned how to give his paw. He also went to get groomed and he did GREAT! He's a very smart boy :)

Cassie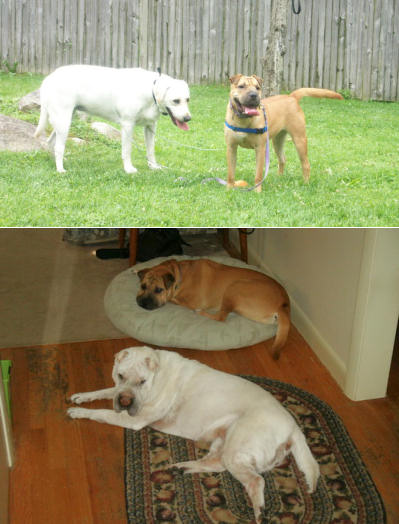 Cassie is a very hap-pei girl in her wonderful new home in Vermont where they love her to pieces!

Phoenix (Previously Bubba)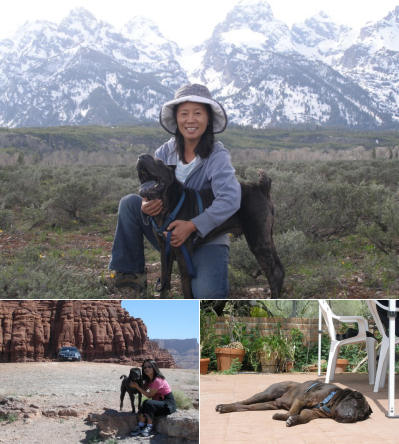 Bubba is now named Phoenix and is enjoying life traveling with his new family!

Dapple (aka Lola) and Satchel (aka Denny)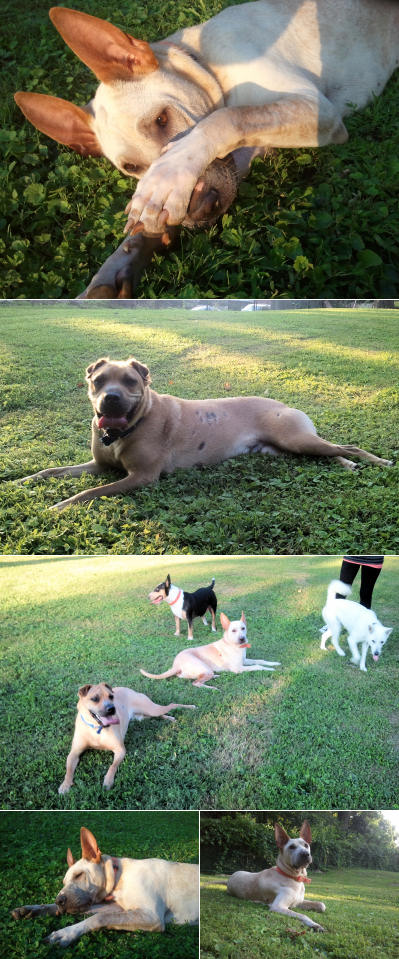 Dapple and Satchel are doing really, really well. I'm sure that Dapple has put on at least ten pounds since we picked her up in May. It's hard to believe this is the same sad little pooch curled up on the concrete floor at the shelter. She's definitely our sentry and barks the alarm when she hears something unusual or sees someone through the fence who may just be trying to steal her cookies. Dapple and Satchel are both getting along well with big sisters Marble and Orfin and have a playdate every week with our friends' dog, Sushi, which leaves everyone dead tired with their tongues hanging out!

We're so glad that her sister, Olivia, found a forever home and that Dapple/Lola is with us. It's a win-win-win!!
~ Jane

More Hap-Pei Endings:
Page 1
-
Page 2
- Page 3 -
Page 4
-
Page 5
-
Page 6
-
Page 7
-
Page 8
-
Page 9
-
Page 10