If you have a story to share here about your Pei adopted from Shar-Pei Rescue of Virginia, please email photos and stories to us. Thank you for giving these wonderful Shar-Pei a second chance and for providing a loving, forever home.

Enjoy the "Hap-Pei" Ending stories!
More Hap-Pei Endings:
Page 1
-
Page 2
-
Page 3
-
Page 4
-
Page 5
-
Page 6
- Page 7 -
Page 8
-
Page 9
-
Page 10
Kissez and Bear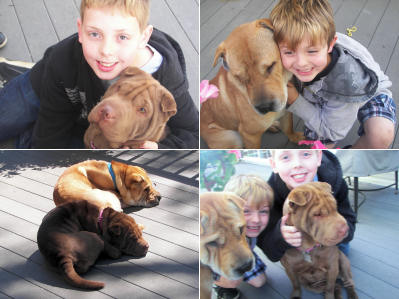 Kissez and Bear are an inseperable pair that came into rescue together. They were very happy to find a home where they could stay together. They have a wonderful new family and a canine brother, Scooby. They are learning leash walking and are enjoying all of the sites and sounds in their new neighborhood.

Juno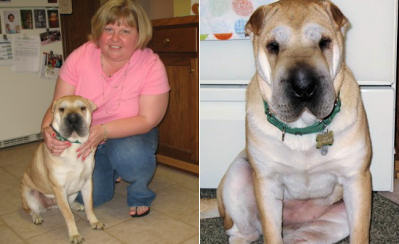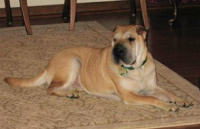 Juno's family absolutely loves this sweetie-pei. About a year before they adopted her, Teresa was interested in getting a Shar-Pei; but her husband said "no, they are too big to play with Moe", the family chihuahua. So it was quite a surprise when she said they were ready to adopt. Several pei from the website had been picked out - one already had an adoption pending; the other one was in New Jersey. Well Juno had just been picked up as a stray and had only been in foster one week. Teresa went to the foster home to meet her, then Juno went to meet the rest of the family. The next day Teresa called and said they wanted to keep her. Truly a "happei" ending...and by the way Moe loves her too.

Morgan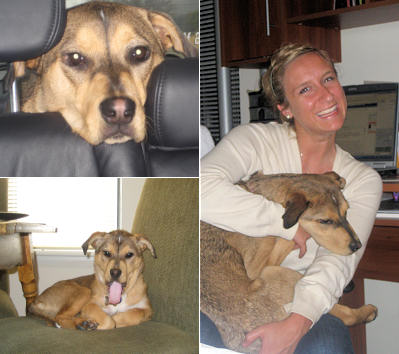 Morgan came into my life in February 2008. Since I wasn't looking to adopt at the time, I first became her foster mom. After fostering her for several months, I decided I just couldn't part with her. She had a rocky start to her life before the rescue picked her up, but now she is a classy city girl up in Washington, DC. She loves to spend her Saturday afternoons at the dog park where she meets up with her friend Guiness, the Great Dane. She has lots of energy which is good because she keeps me active. She can actually chase her tail and catch it! Her favorite thing to do in the summer is swim and terrorize the ducks at my parent's lakehouse. Morgan is such a sweet girl and I am so happy that I found her. I spoil her every chance that I get!
~ Ashley

Murph (aka Chloe)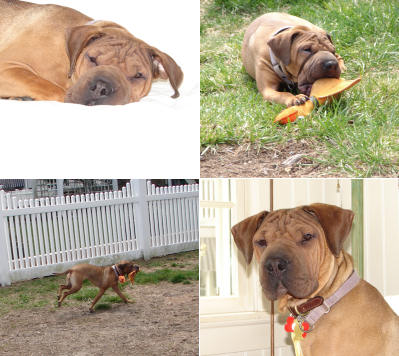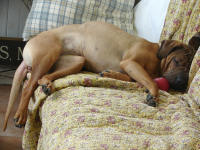 Murph, formerly Chloe, has a new home where she is loved. Her eye problems have been resolved and she is becoming more confident. Her eyes are now wide open and she has put on a few pounds - she looks great and happy too!

Liu Hsing (aka Luci)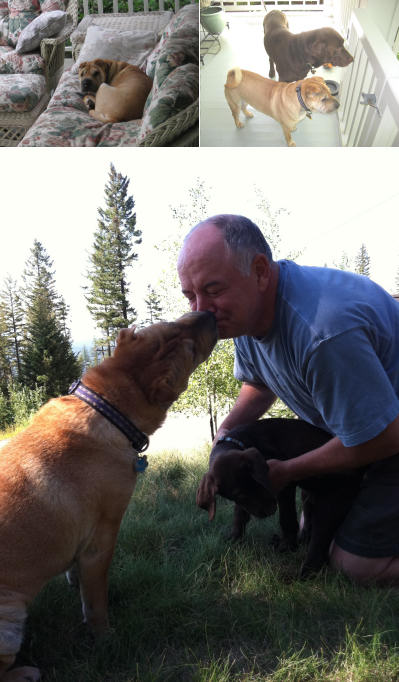 We came down and adopted Liu Hsing (Luci), in early November 2007. She had a rough beginning with us, chomping Marie, Jackson (our Lab) and me the first day with us. But we had been down this road twice before with rescued Pei, our previous two living to ripe old ages of 15+ with us; so we knew we just had to hug her more. A year and a half later she is as happy as a Pei can be, finding sun spots to lay in and toys to play with. Keep up the great work for these wonderful pups.

Update 5/19/2011: "Lucy", who we now call Liu Hsing, is doing great. We are out in Montana, she is thriving but freezes up and is only capable of making a "yeep" sound when she sees any wildlife, and there is a lot to see. They stare at her in amusement, glad we rescued her, keep up the work.

Update 9/2/2011: Just a quick note and update on Liu Hsing (Lucy). Liu Hsing's mentor, our lab Jackson, passed back in May and we have since jumped back in with another lab puppy, Cody. Liu Hsing has taken him under her wing, just like our previous rescue, Hsing Hsing, raised Jackson and she certainly has her paws full. She is living the good life out here in Montana and makes the strangest "yeeping" sound when she spots deer wandering around. Keep up the good work, there is such a great feeling when your face gets licked and you play with a rescued Pei, knowing the journey they took to get to their Furever Pack.
~ Wes, Marie, Liu Hsing and Cody

Penny (aka Snickers)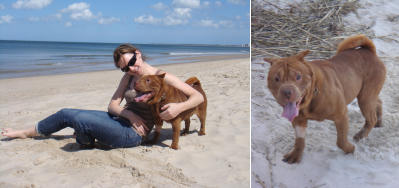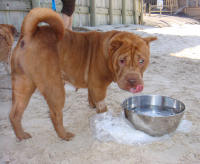 Penny (formerly Snickers) is settling in well to her new home. She loves long walks and has almost mastered walking in a straight line! She sleeps (and snores) in every room in the house and loves her neighbor pets - especially the cats! Today she went to the beach for the first time and loved being off leash to run with her friends. Penny is absolutely wonderful - full of affection and an easy nature. People usually say dogs are lucky to have a forever home, but Penny's forever home is lucky to have her.
~ Sarah

Levi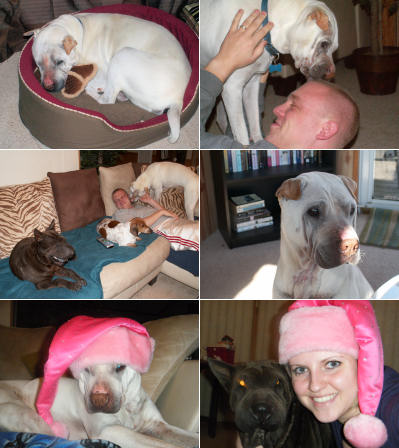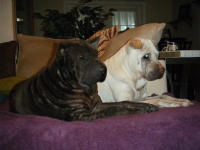 I had met Levi at a PetCo adoption event back in November when I had also met Batman. We immediately adopted Batty (who I was at PetCo to meet); but when I saw a few months later that the sweet cream-colored Pei I had already met had still had not been adopted, I knew it was time to add a second Pei to the family.

He fit in great, even the first afternoon he came to our house. He started out so quiet, didn't jump on furniture (we thought it was so strange!). But after just a few days at his new home, he started realizing the other dogs were having more fun! So, Levi fits in great now... barking at the window and jumping on and off the couch with the other dogs!

We love having a home filled with Peis, and just want to say thank you... again... to Shar-Pei Rescue of VA!
~ Becky and Brock Martin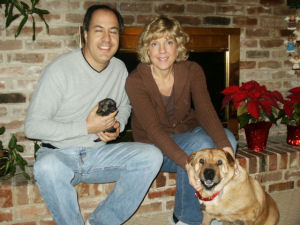 Phoebe has been adopted by a wonderful couple in Virginia Beach. We didn't know Phoebe was pregnant until she gave birth to two puppies by emergency c-section. Sadly, one of the pups did not make it. See more pictures of Phoebe and her puppy. She is a great mom; very sweet and loving.

Jada
Jada was adopted back in 2002/3 and is living the good life with her family in Virginia.

More Hap-Pei Endings:
Page 1
-
Page 2
-
Page 3
-
Page 4
-
Page 5
-
Page 6
- Page 7 -
Page 8
-
Page 9
-
Page 10