If you have a story to share here about your Pei adopted from Shar-Pei Rescue of Virginia, please email photos and stories to us. Thank you for giving these wonderful Shar-Pei a second chance and for providing a loving, forever home.

Enjoy the "Hap-Pei" Ending stories!
More Hap-Pei Endings:
Page 1
-
Page 2
-
Page 3
-
Page 4
-
Page 5
-
Page 6
-
Page 7
-
Page 8
- Page 9 -
Page 10
Munchkin (aka Soldier)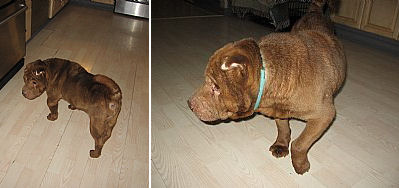 Munchkin seems quite happy. He is the sweetest Shar-Pei anywhere! His fur is looking better and he is putting on some weight. He never potties in the house, is quiet as a mouse, and is great with other pets. He is so smart too! I'm glad I decided to take him in!
~ Sherry H.

Hunter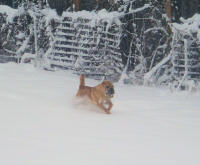 Hunter has gone to his new forever home for Christmas! He is being spoiled by a family in Fairfax, VA., who have had many Shar-Pei and love the breed. He has two big brothers and a big fenced in yard to play in.

His new dad says: Hunter is doing exceptionally well and is becoming the perfect Shar-Pei. He tries very hard to please and loves his freedom. He sleeps in our bedroom-turned-into-a-closet on a sheep skin and lays out waiting for us to come home He is very affectionate with the kids and Laurie. He had a blast in the snow and loves his doggie-door, which he uses 300 times a day.

Cody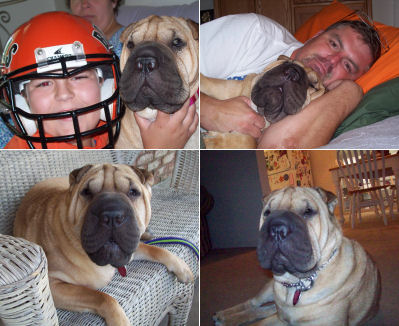 Cody is enjoying the good life that he so deserves with his new family!
~ Kevin, Rose, Kyle, and Miranda

Aja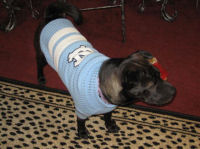 Aja is doing great! She gets along great with the cats. She is very loving and stays by our side at ALL times. Aja loves to play and still has her squirrel, among many other toys. Thanks Beverly, Angela, & everyone at Shar-Pei Rescue of VA!
~ Mitch and Sharon

Meisha (aka Shalom)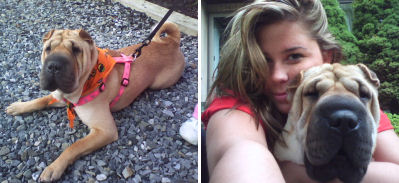 Meisha (previously Shalom) was rescued from a MD shelter where she was turned in with an American Bull dog when their owners had to move. She is now living the high life and enjoying trips to the dog park, riding in the car and boating.

From Meisha's new family...Thank you so much, we love Meisha. She sleeps right next to me every night and we snuggle. I'm so glad we visited Shar-Pei Rescue of VA. Meisha is so happy and so are we.
~ Brianna

Rufus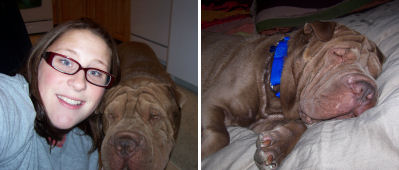 Rufus was rescued from a Pennsylvania shelter and is now obviously adored and very comfortable in his new home in the Pittsburg, PA area!

Batman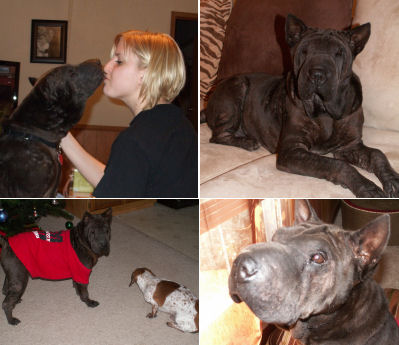 We adopted Batman (Bat, Batty, BratMan... whatever you'd like to call him!) in November 2008, just in time to pig out at Thanksgiving! Lucky for him, there was tons of family around to feed him against our wishes!

Batman is the perfect addition to our family, and a very playful "big brother" to our dachshund, Biskit. He loves sleeping in our big bed, or in Biskit's little bed (not, of course, the big dog bed we bought specifically for him!). Batman loves people, and all of our friends and family have fallen in love with him, along with us! He's warmed our hearts to Shar-Pei, and he will definitely not be our one-and-only! Thanks Shar-Pei Rescue of Virginia.
~ Becky and Brock

More Hap-Pei Endings:
Page 1
-
Page 2
-
Page 3
-
Page 4
-
Page 5
-
Page 6
-
Page 7
-
Page 8
- Page 9 -
Page 10