Mulan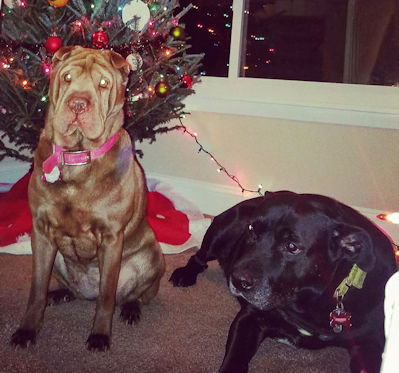 Mulan (adopted 2017), ready for Christmas with her big brother Scooter!

Parker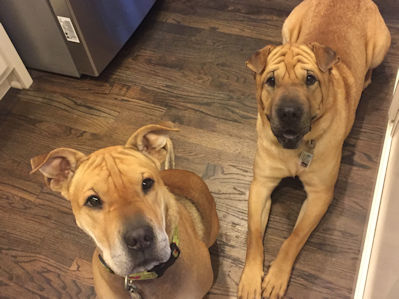 Parker (right, adopted 2017) with his adorable brother Charlie! Parker is very hap-pei in his furever home!

Zeke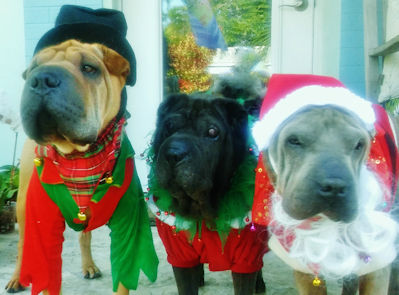 Zeke (adopted 2017), Izzy (adopted 2008) and Lee Ping (adopted 2009) celebrating Christmas in the Keys!

Jax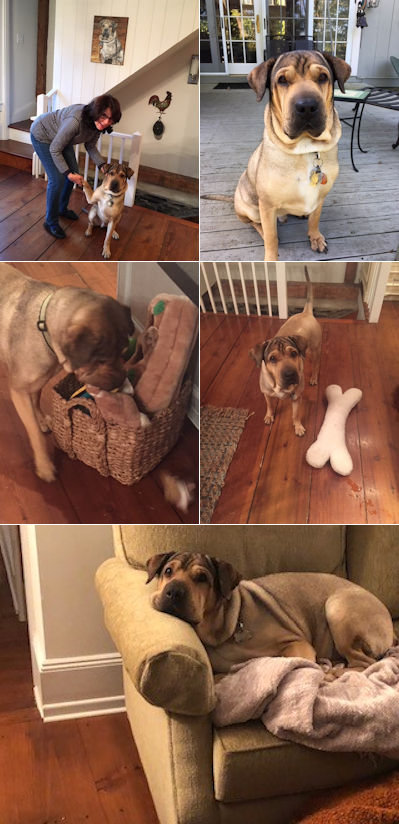 Jax (adopted 2017) is hap-pei and loved in his furever home. He is such a cute boy and even has a beautiful painting created by his Mom (on the wall in top left picture)!

Riley (pka Star)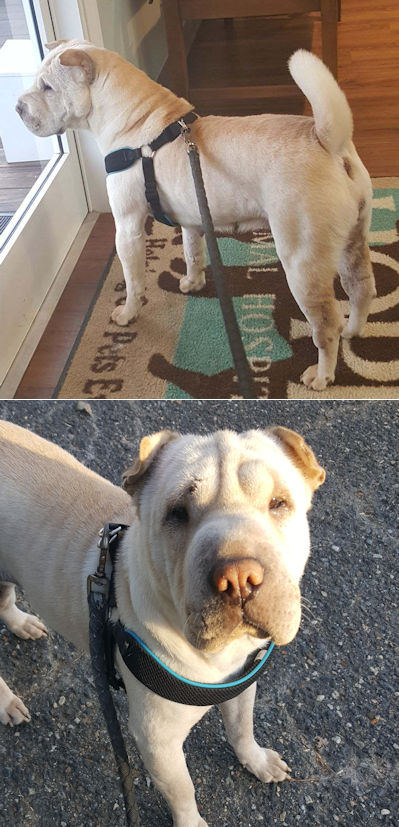 Riley (previously Star adopted 2017) loves her older sister, Juno, (rescued Manx Bobtail cat age 9) and her twice daily walks and is every bit as sweet and adorable as she looks in these photos.

Benzi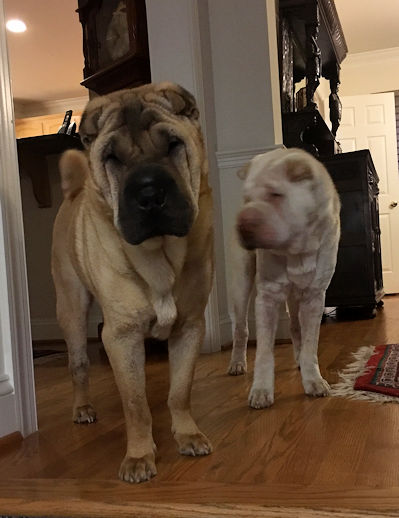 Adorable Benzi (adopted 2015) with little brother Archie!

Kiebler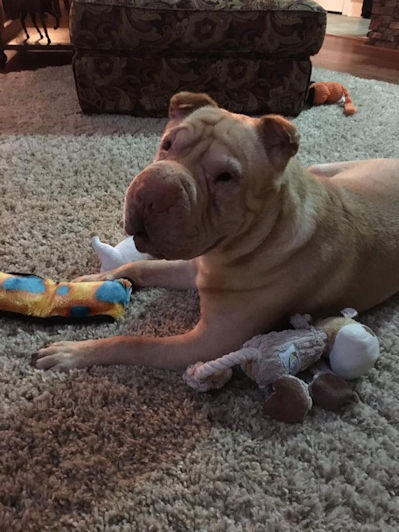 Look at this smiling face :-) A very hap-pei Kiebler (adopted 2017) with his stash of toys! From his Mommy... Not too bad for a pup who lived outside for the first seven years of his life. Now he has endless toys...and finally knows what they are!

Louie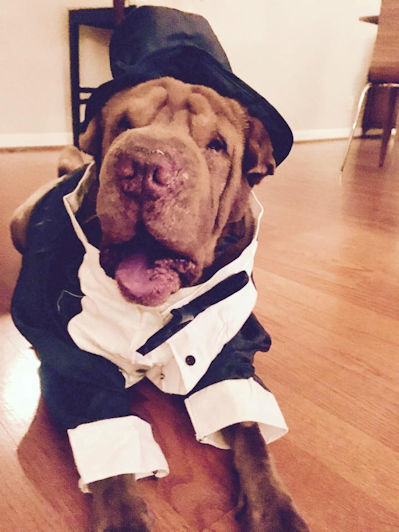 A very handsome hap-pei Louie (adopted 2016) is very much loved in his furever home!

Stuey (Previously Steele)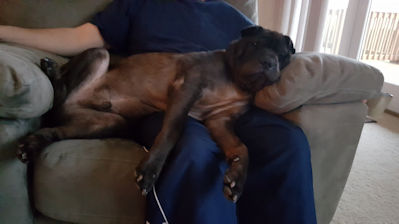 Cuddly Stuey (previously Steele adopted 2012) relaxing on his Daddy's lap.

Charlie (Previously Diesel)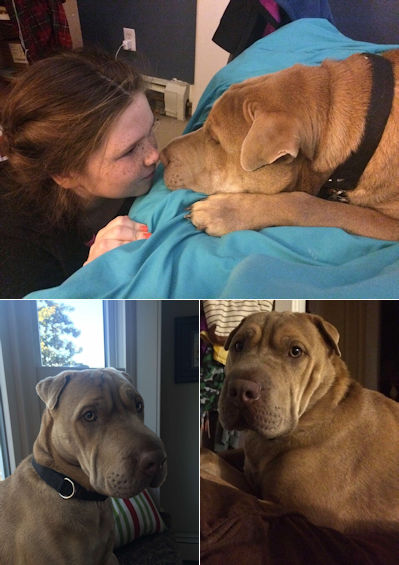 Charlie (previously Diesel adopted 2015) is very hap-pei in his new home in Maryland and has become a huge part of his family.

Bullitt (Previously Bubba)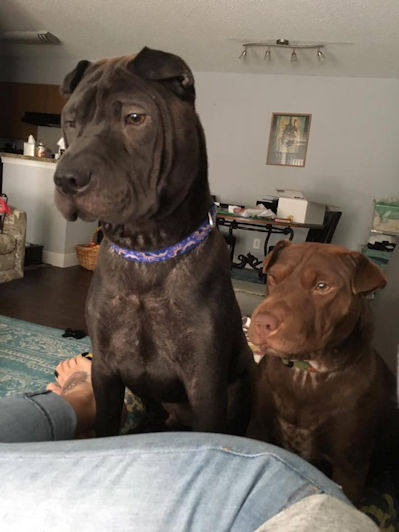 Gorgeous Bullitt (previously Bubba adopted 2016), and his adorable sister Bree, are all grown up and Hap-Pei-ly living in Florida.

Snowy and Ella
Beautiful Snowy (adopted 2015), sister Cassie and Ella (pka Seven adopted 2014) waiting for breakfast! They are VERY hap-pei Pei!

Sonny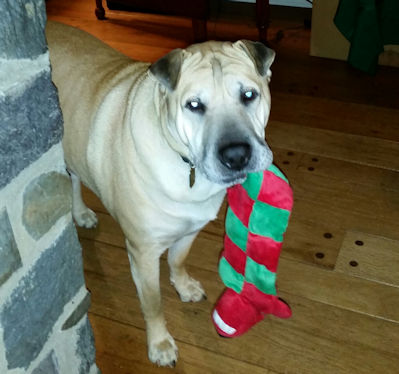 Sonny (adopted 2011) is hap-pei and healthy in his "furever" home!

Stella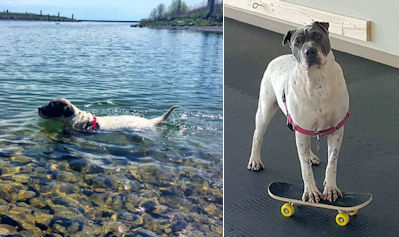 Stella (formerly Speckle, adopted 2013) showing off her beach body and swimming skills in Lake Erie :-) And skateboarding too! She is such a happy girl!

Savannah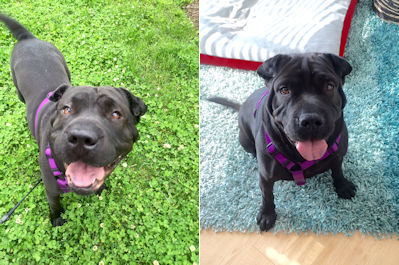 Hap-pei Savvy/"Banana" (previously Savannah adopted 2016) is doing wonderful in her new home!

Charlotte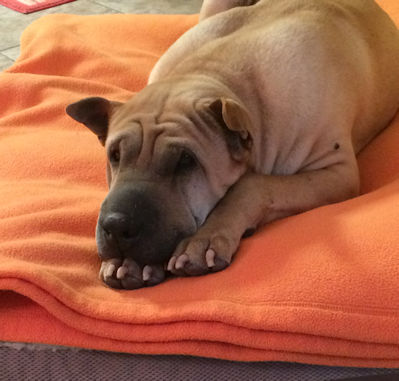 Charlotte (adopted 2016) loves her yard, her bed, and her daily walks. She is so happy! A special thanks to the folks at Portsmouth Animal Hospital for giving Charlotte such loving and special treatment!

Nadia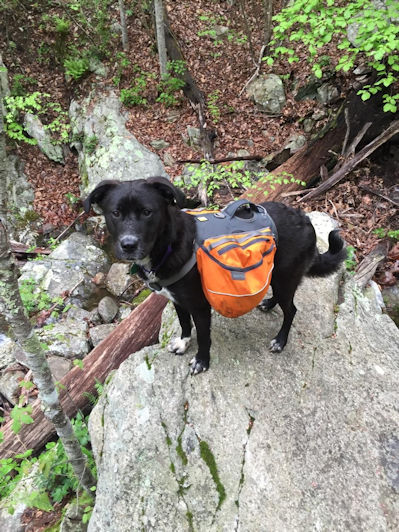 Nadia (adopted 2016) enjoying hiking adventures with her new Dad!

Penny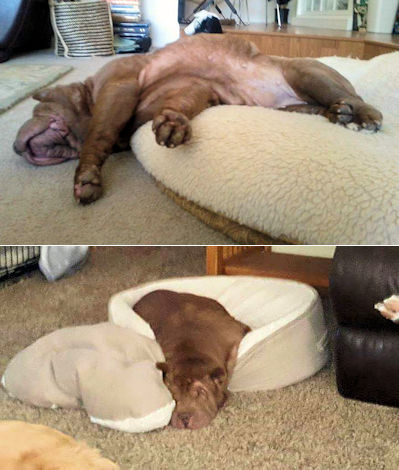 Penny (previously Snickers, adopted 2009) showing how much joy a Shar-Pei get out of an awesome, comfy bed!

Bordie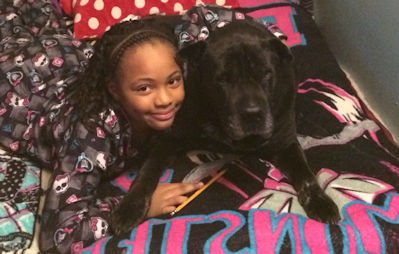 Bordie (Bordeaux, adopted 2016) is enjoying snuggle time with his new family!

Mousse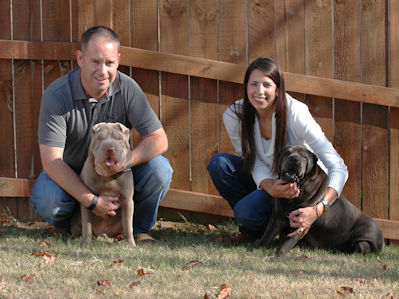 Mousse (adopted 2015; right) is very hap-pei and loved in her new home. She has a Shar-Pei brother, Satchel, who she enjoys playing with.

Diesel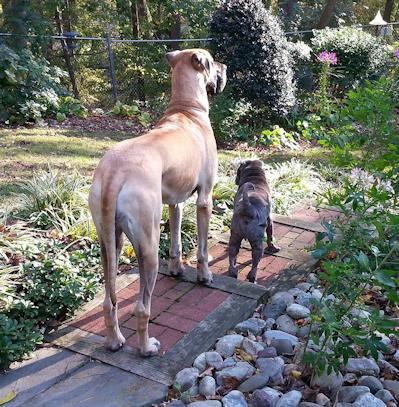 Diesel (adopted 2014) and his "little" brother enjoying some outdoor time in their back yard on a beautiful fall day.

Passion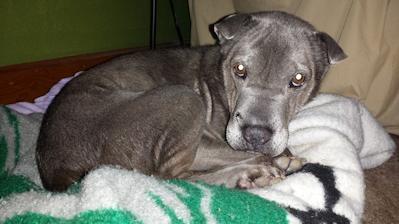 Passion (adopted 2013) celebrated her 11th birthday on July 25, 2014!

Roxy and Luke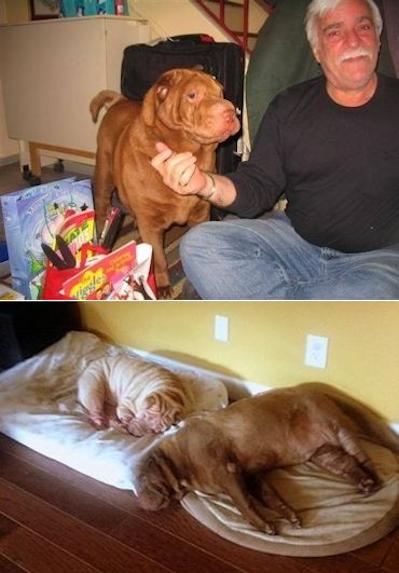 All the Pei are so cute! We have adopted from, or through, you all for the last 15 or so years! Tracey will always live in my memories as one of the best people ever born. I thought you might like to see a picture of Roxy, whom we adopted 9-10 years ago, with her "Daddy" a few years back. The next picture is Roxy and her little brother Luke, who we adopted 4 years ago. He is the one that came from the puppy mill in Kentucky, and was flown to Maryland, and driven here to us. Of course, we were just going to foster him, yeah right!

They are so sweet; our home would be cold and lonely without them!
~ Marsha

Titus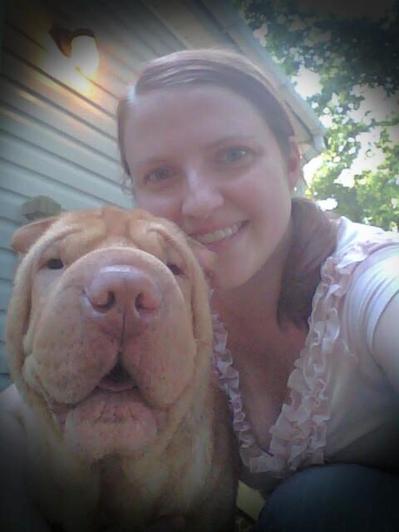 Handsome Titus (adopted 2014) with his beautiful Mommy!

Serafina and Sorella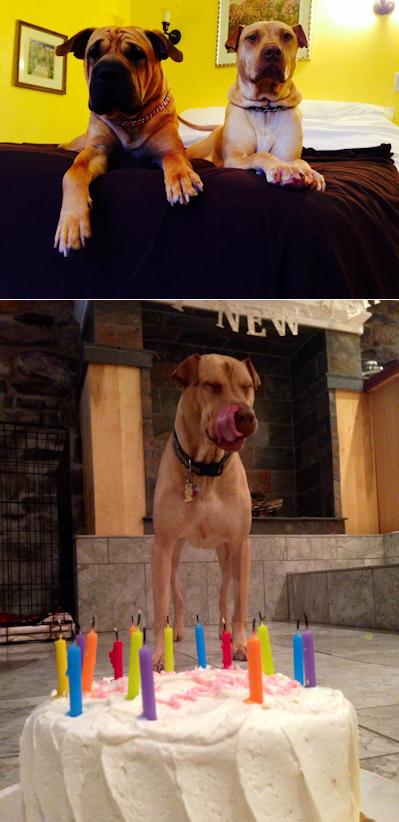 Sorella (top right, previously Cal Lee adopted 2012) and Serafina (top left, previously Emma adopted 2014) love each other!

Sorella celebrates her 2nd birthday in the bottom photo!

Caroline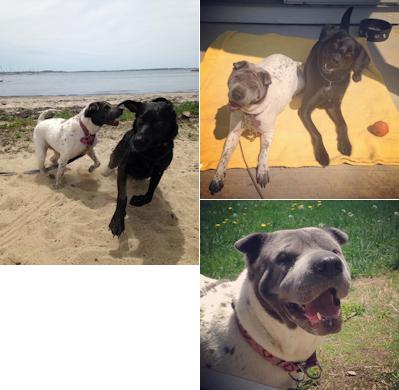 Just wanted to send an update on Caroline! She was adopted in January of 2011. She loves spending time outside, smiles all the time and loves playing with her lab brother! We're so thankful we found her through the Shar-Pei Rescue!!
~ Ashley

Potter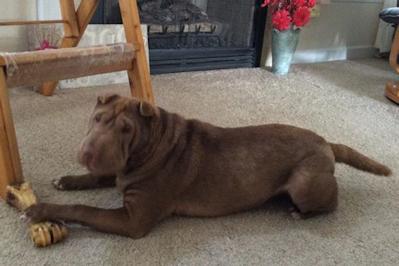 Potter entered our home in November 2013 and became a part of our family almost immediately! We were only supposed to foster him, but he developed a very special bond with my hubby. He's fun, playful and has a very strange personality that has a way of making its way into your heart.
~ Laurie

More Hap-Pei Endings:
Page 1 -
Page 2
-
Page 3
-
Page 4
-
Page 5
-
Page 6
-
Page 7
-
Page 8
-
Page 9
-
Page 10



<