If you have a story to share here about your Pei adopted from Shar-Pei Rescue of Virginia, please email photos and stories to us. Thank you for giving these wonderful Shar-Pei a second chance and for providing a loving, forever home.

Enjoy the "Hap-Pei" Ending stories!
More Hap-Pei Endings:
Page 1
-
Page 2
-
Page 3
- Page 4 -
Page 5
-
Page 6
-
Page 7
-
Page 8
-
Page 9
-
Page 10
Beatrice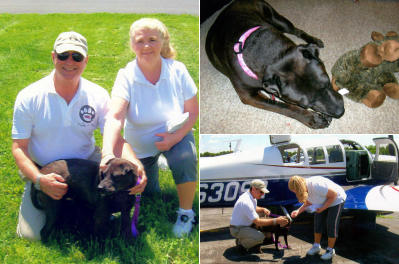 Beatrice is all settled in at her new home in Pennsylvania, and she is doing great. She had a great adventure with Pilots N Paws who flew her from her foster home in Virginia to Pennsylvania. Bea sent this cute note to her foster parents:

Dear Foster Mom & Dad,

Just thought you might like to know I'm doing really well. Sam and I get along great. He purrs when I lick him. Carol still won't leave us together if she has to go out, I don't think she trusts Sam. I have a new canine friend. His name is Max, he is a Pomeranian. He lives next door. His people work all day, and he was alone and barked all day, so we started taking him for walks with us. We get along pretty good. I have an adopted grandma that lives two houses away. She cooks bones for me. I get a new bone about every 2 or 3 days. We give the old ones to Carol's grand dog Tiny, a pit bull. Most of the people in the neighborhood know my name. They talk to me as we walk by. It's pretty nice having my own home and my own person. Thank You for taking me in and getting me ready for my forever home!
~ Love Beatrice

Qi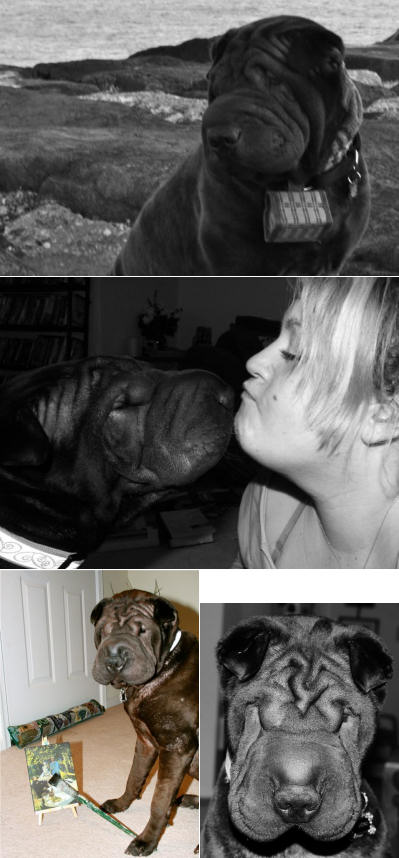 Qi is doing fabulous! He is so happy and has learned so much! He is getting more social everyday, with dogs and people. We love him so much and is too spoiled now & he knows it!!!
~ Stephanie, Kevin, & Qi

Sophia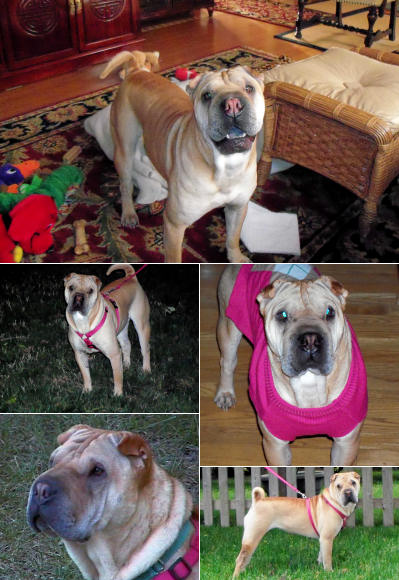 Beautiful Sophia is doing great in her new home.

Haley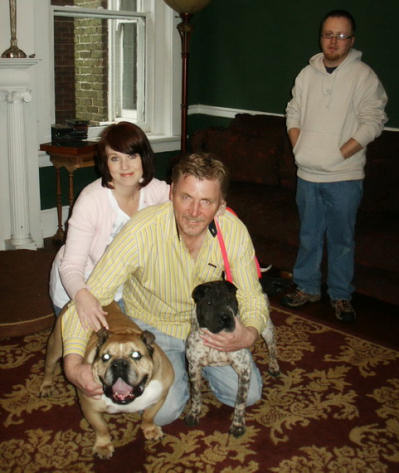 Haley now lives in Richmond, VA with her brother Ernie the bulldog. She and Ernie try to out run each other in the house, and she usually wins. She has settled in nicely and gets to take walks everyday with Ernie too. She is finally happei and loved!

Rescue Buddies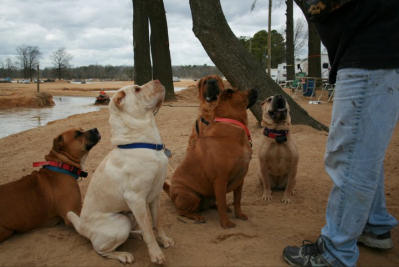 Brutus, Clyde, Gracie, and Katie (all adopted from Shar-Pei Rescue of VA) and their buddy Gordo all camp together with their families in North Carolina.

Jade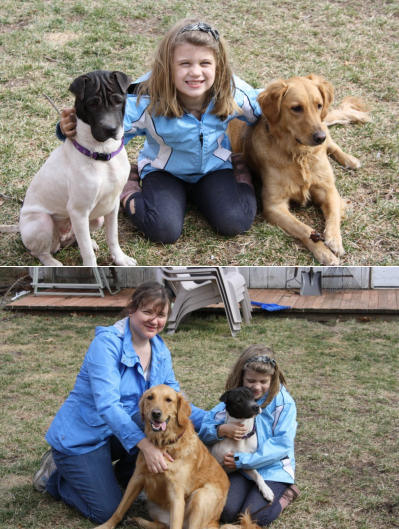 Adorable Jade was adopted directly through the Associated Humane Society. Since she was on our website and in our newsletter, we wanted to share her hap-pei ending photos!

Jackie and Chance (previously Alfie)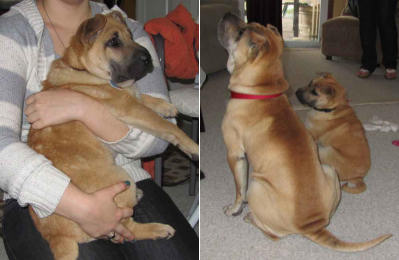 Big sister Jackie with her new little brother Chance. Both Jackie and Chance were adopted from Shar-Pei Rescue of VA in 2011.

Kobe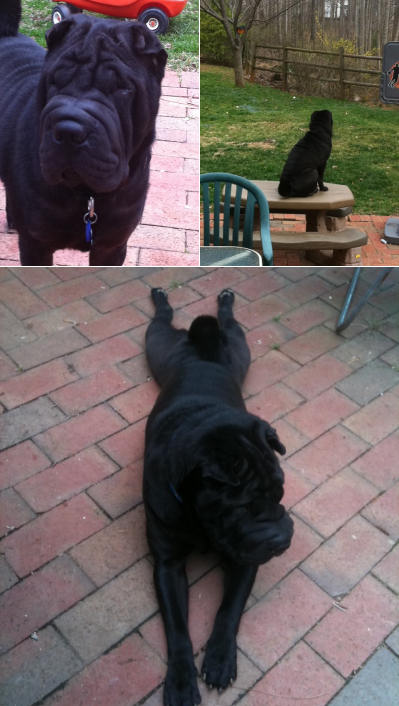 Kobe is all settled in his new home in North Carolina! We feel so blessed that he has come into our lives! I knew from the first moment I saw his face, he was our dog. I never thought I could love another dog as I loved our last Pei, but Kobe has exceeded all expectations! He lived with severe entropion for the first two years of his life; and days before his surgery, the Doctor discovered his eyes were ulcerated. He was so close to going blind. Thank you so much to the Shar-Pei Rescue of VA for allowing him to keep his sight! He is now recovered, and you would never know all he has been through. He is so kind and gentle with our three Children and the biggest love bug I've ever met! His favorite things to do are lounge on the couch, run around the yard, and lay in the sun! Thank you to everyone who helped bring our Kobe into our lives, especially Kathy and Jeff Hodge for going above and beyond what they needed to do! We look forward to many, many happy years with Kobe in our lives!
~ Jen

Carly (previously Polly)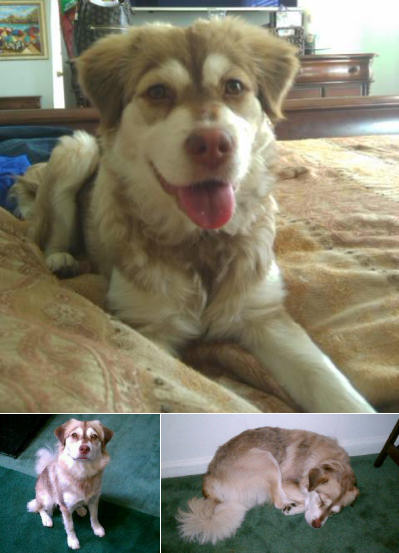 Polly, now called Carly, was the smallest of Bea's litter. She fits right in with her adoptive family! She is very protective of the kids and gives lots of kisses.

Hattie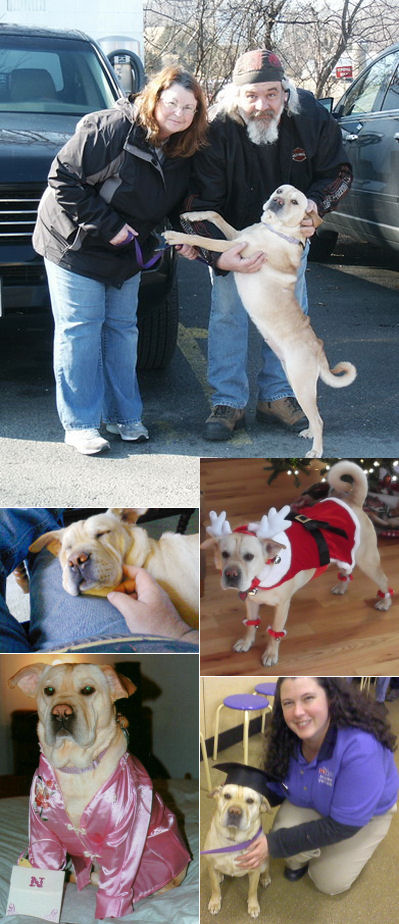 Hattie is such a pleasure and we continue to be thankful to Michelle and the Rescue for the opportunity to have her become a part of our family!

Ronnie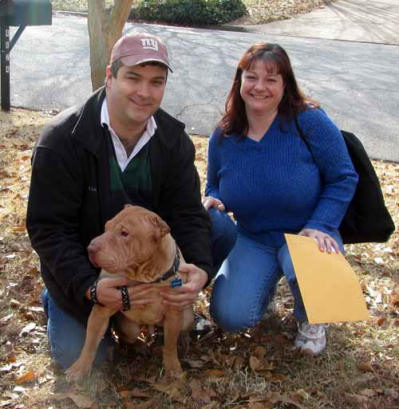 Priestley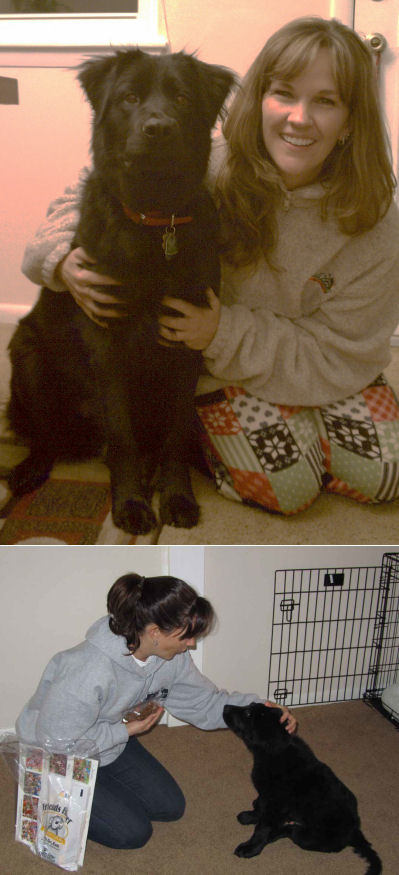 Priestley and his new mamma!

Update 1/2012: Top photo is Priestley at his one year adoption anniversary!

Satchel (previously Denny)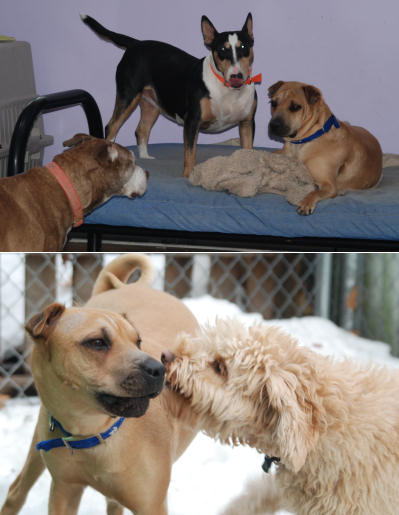 I just wanted to update you on our Satchel. He's doing really well with Orfin (our 13.5 year old Pitbull) and Marble. He respects Orfin as the alpha and he and Marble are great wrestling buddies. We watched 2 Labradoodles over the holidays and he and Ruby (pictured above) never came in from the snow!

He was 35 pounds when he came to us and is now 45 pounds! Our vet said he looks good and his bald patches are slowly growing in. His favorite pastimes are horsing around with Marble and sleeping in bed with us.

We're so happy we adopted him and can't imagine our lives without him! Thank you for all you do to help the dogs!
~ Jane & Bill

Kiki and Tucker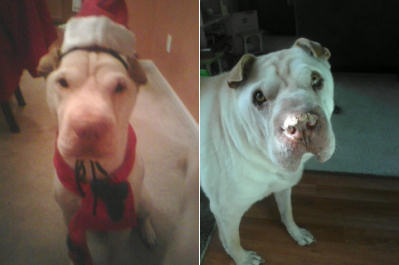 Kiki and Tucker wishing everyone Hap-Pei holidays!

Milla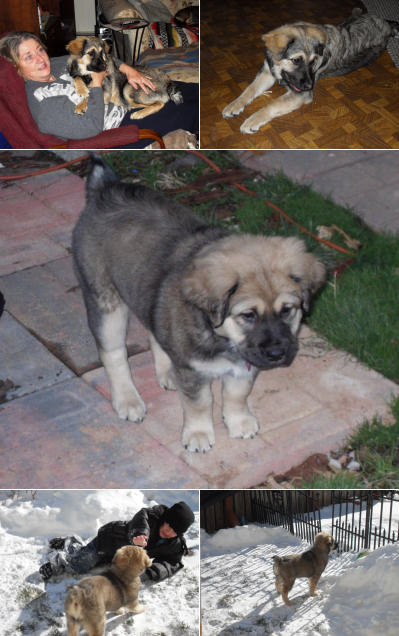 She is a wonderful dog. So smart and so very much loving. She is great with the grandchildren and is so quick to learn everything. She followed the cat right up into his bed to his surprise. His bed is up on a chest and has a little stool next to it. She mastered the stairs up and down within a day. She lets us know when she wants to go out, and I thank you for that. Milla seems like she has always been with us. She already is a good friend and, needless to say, a wonderful loving girl. Thank you for all you did for her. We couldn't be any happier.

Update 3/9/2011: &nbsp: Milla is such a lovable dog. We are so happy to have her. Milla has grown tall and has the same coloring. Her fur is extremely soft and wavy. She is growing tall and into her paws. She does think that she is a lap dog. Loves to be loved and gives so much love in return. We are so grateful to have her in our family. If I'm reclining and I tap my chest, Milla will get up and snuggle with her head on your chest. She thinks she is people. Thank you again for such a lovable "person".
~ Karen

Milo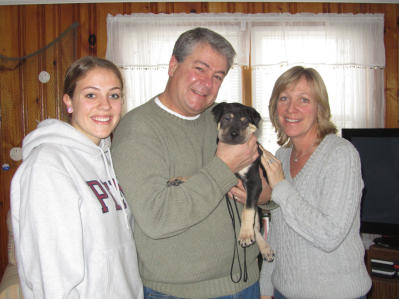 Georgia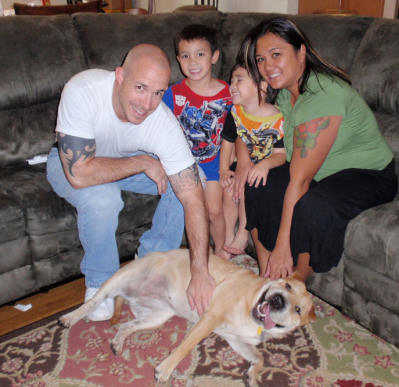 Champ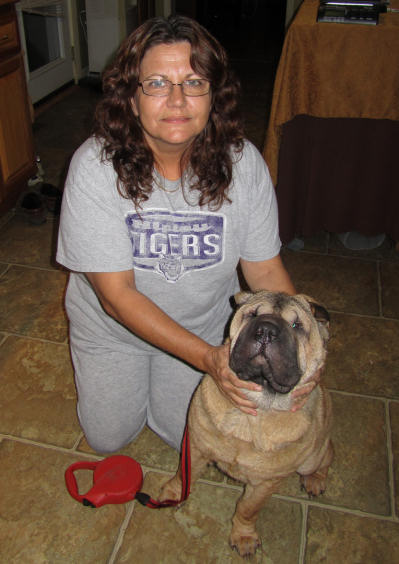 Muggle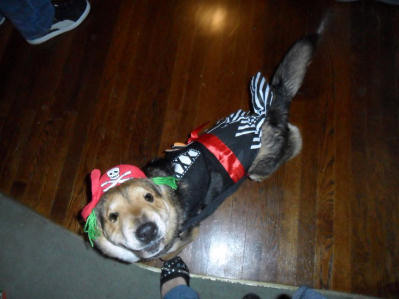 Muggle had a great time in his Halloween pirate costume!

Penelope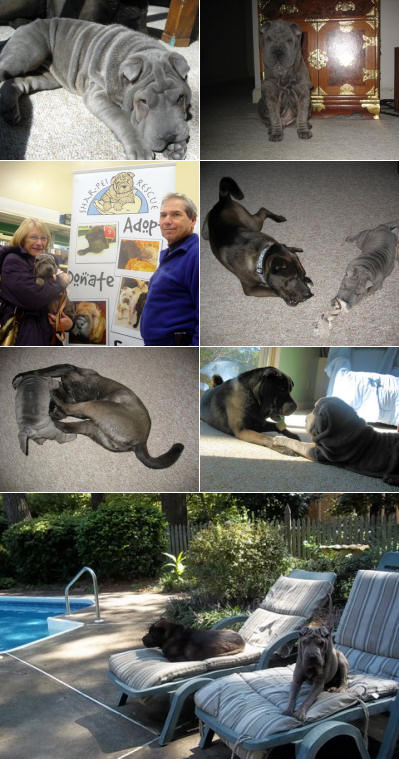 Adorable Penelope has found her "fur-ever" home in Virginia Beach. She has a canine sister, Mini, who she gets along great with. Penelope and Mini spent their summer lounging by the pool.

Rudy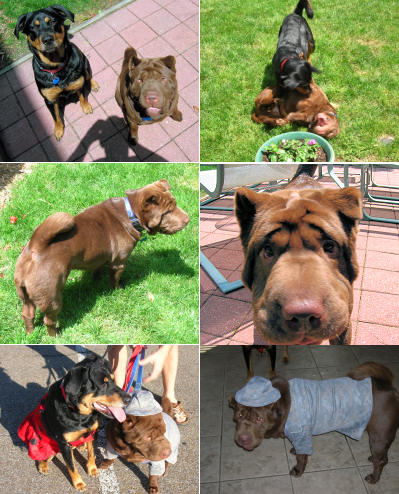 Rudy is absolutely great! Lady, our other dog, and Rudy are inseparable. He is so loving, fun, and adjusted in no time at all to our family. It feels like he has always been with us. We found he really likes vanilla ice cream. We traveled with him to Virginia Beach and Lake Anna. He is great in the car and loves to ride. He enjoys the dog park and loves going on walks with Lady and me.
~ Sarah

Bradstreet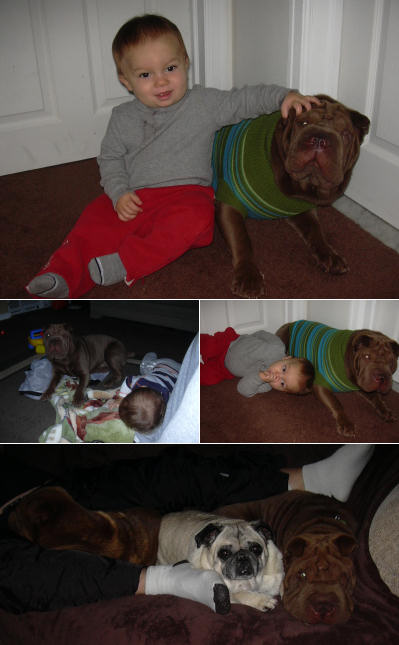 Bradstreet is settled in to his new home in Pennsylvania where he is already making himself at home on the couch with his new family!

Mia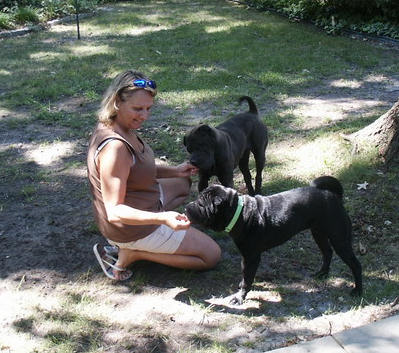 Mia pictured in her beautiful new yard in Virginia with her new mom and Pei sibling, Sammei.

Babe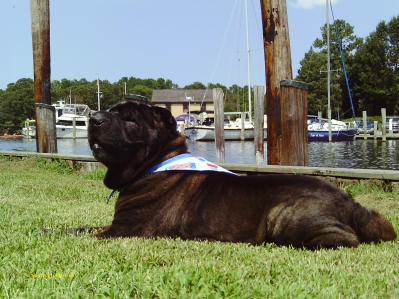 Babe...clearly enjoying the good life!

Kato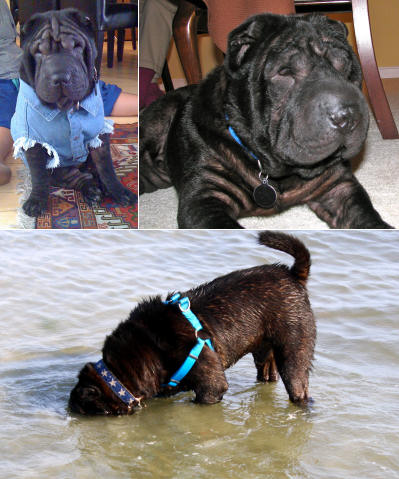 Kato, now known as Barney, is doing very well in his new home. He likes to go to the bay and lets the waves crash right over him!

Summer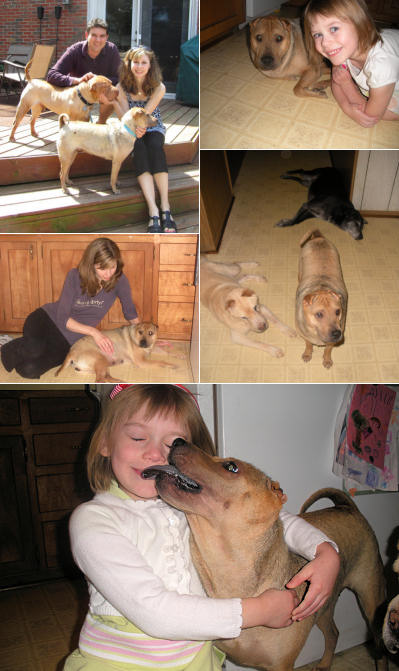 Summer (top left), with her furever family when they came to pick her up in VA. Ronnie got a little loving too while saying goodbye to his foster buddy Summer.

Summer is doing well in her new home. She really enjoys playing with the kids and has two canine companions, Sophie and Pinky. She goes on long walks several times a day and spends a lot of time running and lying around on the deck.

Dolly Baby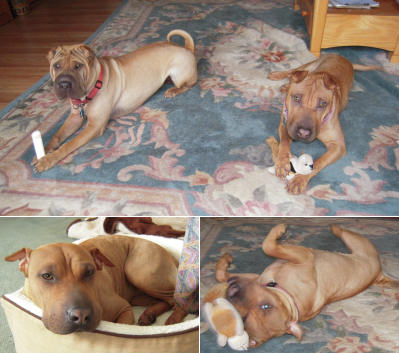 Dolly Baby had an exciting trip with Pilots N Paws to her new home! She has two canine buddies - Foxy, a lab, and Maui, a Shar-Pei previously adopted from Shar-Pei Rescue of Virginia. Her family is thrilled with her and says she is loving and energetic.

Pinky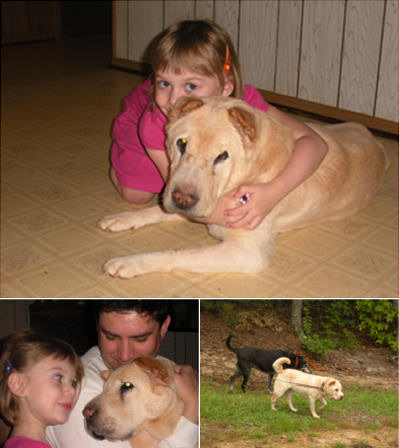 We read Pinky's urgent plea for adoption on the Shar-Pei Rescue of Virginia homepage.

Pinky, an older Pei, was unable to stay with her former owner who was ill. The more we read about Pinky's unfortunate situation and saw her sweet face we had to help her. Kathy from Shar-Pei Rescue put us in touch with Dr. Miller at the Lincolnton Animal Hospital to arrange Pinky's rescue. It is one of our best decisions ever.

Pinky has only resided with us two weeks but has already made herself a lovable and valued member of our family. She has many health issues that are currently being treated by our local veterinarian so she can be with us for many years.

We urge people to consider the benefits adopting an older Pei provides. Pinky is not interested in chewing or chasing squirrels and just wants to be a loving companion.

Isamu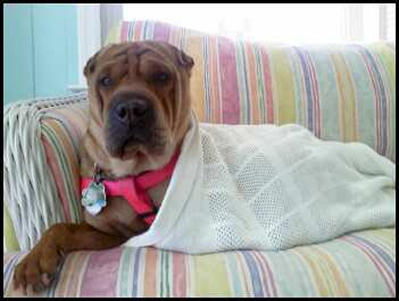 Isamu is a great addition to our family!! Shy at first, she's come a long way since we got her about 18 months or so, ago!! Though certainly a good watch dog, who barks warnings at appropriate moments, now, she will also come over to girls after a couple of minutes, enjoying their company! Guys/men, it takes a bit longer, but once she knows them and warms up to them, she will all but do back flips at their sight!! She's a great girl!! Initially, there were some questions if she'd get along with our cat, (who was approaching 15 years of age then!!). After the initial "introductions", the 2 got along quite well, tho', sadly, our cat recently passed away of old age, making it to the ripe old age of almost 18 yrs old! Isamu is a princess, loves to wear "outfits". My daughter is a junior at Appalachian State, and frequently dresses Isamu up in App. State sweaters and sweatshirts, and Isamu prances and parades around, loving the attention, and wagging her tail in school spirit!! Isamu is GREAT, and EVERYBODY loves her!!!

Mia


Beau (previously Cezar)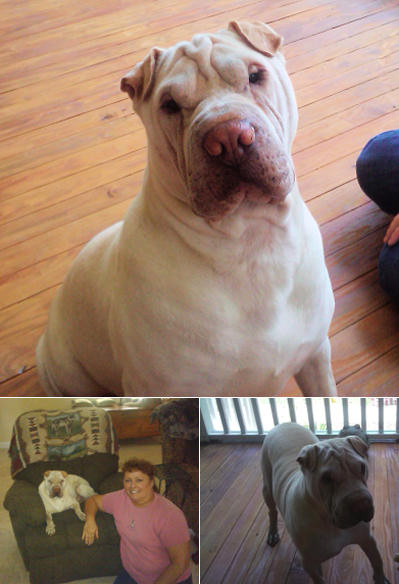 Here are some pictures of a "Hap-Pei" and healthy Cezar/Beau enjoying the good life!

More Hap-Pei Endings:
Page 1
-
Page 2
-
Page 3
- Page 4 -
Page 5
-
Page 6
-
Page 7
-
Page 8
-
Page 9
-
Page 10