If you have a story to share here about your Pei adopted from Shar-Pei Rescue of Virginia, please email photos and stories to us. Thank you for giving these wonderful Shar-Pei a second chance and for providing a loving, forever home.

Enjoy the "Hap-Pei" Ending stories!
More Hap-Pei Endings:
Page 1
-
Page 2
-
Page 3
-
Page 4
-
Page 5
-
Page 6
-
Page 7
- Page 8 -
Page 9
-
Page 10
Charlie Blue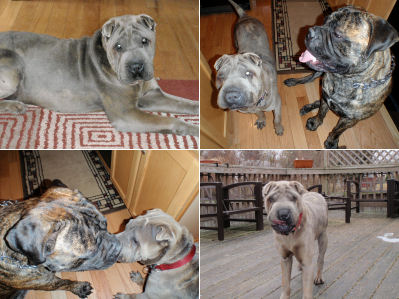 Charlie Blue has a new family that loves him. He shares his new home with his canine brother Mackey.

Magnum (aka Knight)

Our "Knight" In Shining Armor...

Knight arrived at our home on Saturday October 25, 2008. Much to our surprise, he and our Rottweiler Brutus bonded instantly and became fast friends. Brutus himself is a rescue and has been with us for almost seven years. He will be 10 years old soon and we were so happy for him to have a new friend after losing our beloved Shar-Pei Amber back in February.

It was quite a pairing everyone told us; but, they took walks together side by side, had some fun in the yard barking at everyone who passed by and it seemed like they had been brothers and friends forever. Things were going great, we had a great weekend. Knight and Brutus were bonding and getting to know one another…then disaster struck!

Brutus went down with a devastating injury just four days after Knight came to stay with us. Brutus' MRI showed that two discs in his lumbar spine had ruptured and he was unable to walk. He did not have the use of his back legs and we didn't know if he would ever walk again. The doctors told us the surgery had a 70% success rate. They said he was in great health; but, there were no guarantees. We were heartbroken…what were we going to do? There we were with a new dog in the house and Brutus facing his greatest challenge. Brutus had his surgery the next day and we hoped and prayed for the best.

Knight and Brutus had bonded so quickly, what now? We had high hopes of adopting Knight; but, when Brutus got injured, we weren't sure what we should do. Knight had only been with us for a few days and we knew it was going to be a long road ahead for Brutus. With the encouragement of the rescue, we pressed on and decided to take things one day at a time.

Knight kept us company and comforted us while Brutus was in the hospital. He was very patient, sweet and sensitive to our situation. We knew we were going to have to devote most of our time to Brutus' recovery at night when we came home from work and on weekends and we didn't want Knight to get lost in the process. Brutus was in pain when he came home and wasn't too happy with any of us…especially Knight. Brutus…still unable to walk, was feeling very vulnerable and we had to be very careful with them. We had to keep them separated until Brutus was feeling better and we hoped they would bond again when Brutus' condition and state of mind improved.

Knight never seemed upset that we had to devote so much time to Brutus. He has been remarkable and so respectful to Brutus during his recovery. He has such a gentle way about him…a calmness that has been really great for all of us…especially Brutus. Knight shakes hands, has the cutest tickle spot and is an absolute joy to have around.

Brutus has been in physical therapy for the past ten weeks and we are happy to report he is on his way to making a full recovery. He is slowly…but surely getting back to his old feisty self and he and Knight have started to pick up where they left off. The boys are on their way back to being buddies again and we are so thankful to Jennifer and everyone at the rescue who gave us the time we needed to sort things out.

Knight…now Magnum is staying with us and we couldn't be happier…Brutus is happy too. We plan to pursue getting Magnum certified as a therapy dog…he seems to have a knack for it. We thought we were rescuing him; but this whole time he was rescuing us…from one of the hardest things we've ever gone thru!!! He really is our Knight In Shining Armor.

Thank you Shar Pei Rescue for all your love and support during this very difficult time, we are eternally grateful.
~ Mark & Jo Ann Elliott…Brutus too !!!!

Miles

As soon as we saw Miles' sweet little face, we knew he had to be ours. We adopted Miles over the Thanksgiving weekend. He came to live with the two of us and two other boisterous peis here in Milwaukee, WI, and we all love him to pieces. He is the nicest dog in the world. I still can't figure out how anyone could have ever given him up. He is such a charmer. Everywhere we go, people just have to say hi to him and pet him, and he loves every minute of it. There is nothing like coming home at the end of the day to his upturned face and his wildly shaking tail. It's also been so nice to see Tugg and Circe so willingly accept their new brother. We truly have one big happy, cuddly and wrinkly pack!
~ Mandy Gregory

Emmett (Formerly Buddy)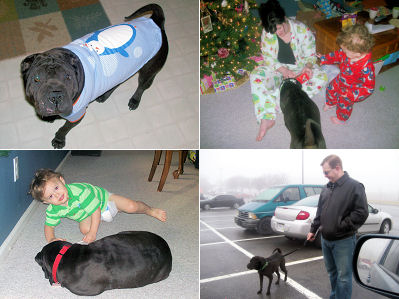 Emmett, then known as Buddy, joined the Clark Clan in December of 2008, just in time for Christmas. Originally we were searching for a female Pei, but Emmett couldn't be a more perfect fit for our family. We like to say we've got just the right mix of chaos and love, he definitely brings loads of love to the chaos!

He is so patient and loving with our toddler, Maddox. He will put up with anything! He's a great playmate for Madd and a wonderful protector of Liam, our youngest. If either of the boys cry, he's there in a flash. Watching Maddox and Emmett play is such a joy, Emmett bounds around like a puppy and Maddox giggles and giggles!

Emmett has the sweetest disposition, our very own teddy bear. It's amazing how loving he is when you learn what he's been through in life. He loves to lounge around the house, take walks around the neighborhood and go on playdates with our neighbor's dogs. He's a great "big brother" to the boys and is so happy to see us whenever we come home (even if we've just caught him on the couch!). He loves to be wherever we are and takes his baths like a champ! He's wonderful company when Daddy goes out to sea and helps the kids feel better with lots of Pei kisses!

All our friends and family are smitten with Emmett and spoil him accordingly! Santa Paws knew where to find him on Christmas morning and made sure to fill his stocking with treats! Emmett is quite the traveler and has already been on trips to North Carolina, Indiana and all the states in between!

He is such a lover pup and we are so thankful to the Shar-Pei Rescue of Virginia for bringing him into our lives. He is our fur-person and we will definitely adopt another Pei in the future! Thank you so much to the Shar-Pei Rescue, Michelle and Lori especially, who suggested Emmett for our family!
~ The Clark Clan of Virginia Beach, VA

Sherman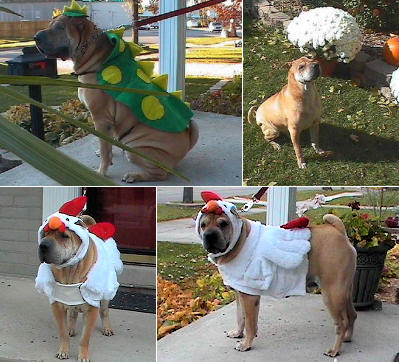 Sherman, who was adopted from Shar-Pei Rescue of VA about 4 years ago, now lives in Michigan with his family.

Noel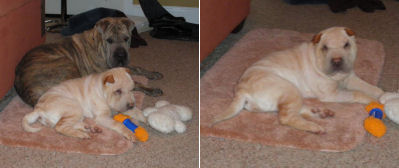 Noel's eyes have healed and the vet believes that she has about 60-70% of her vision. Noel has been adopted by a family in North Carolina and has a Shar-Pei big brother named Charlie who she loves!

Maui (aka Mia)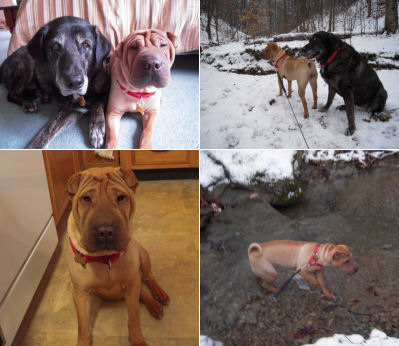 I'm all settled in my new home, everyone loves me cause I keep the place hopping. It's comfortable and we eat good. I get daily hikes in the woods with my buddy Foxy. It's a blast, up and down hills and valleys. I like to lead cause I can - Foxy's getting up there and tires out. Thanks Sherri and Shar Pei Rescue of VA for finding me a wonderful home.
~ Maui!

Sunny and Milo (aka Navidad)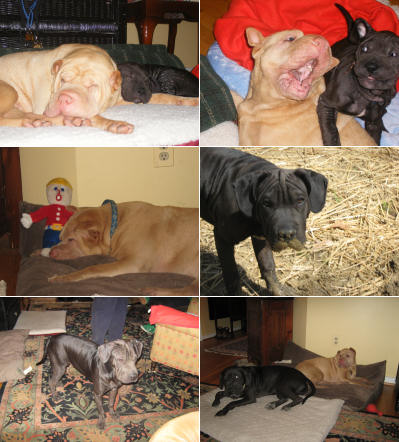 Baby Milo (previously Navidad) and Sunny, who was adopted in 2008, are enjoying each other and the good life with their new family. Sunny is very tolerant and loves to play with Milo. Milo is full of himself; he rough-houses with her like she is a litter mate.

Update 10/2009: As you can see from the pictures, Milo has grown to 65 lbs of high energy and muscle. We think he's got American Bull Dog and maybe even some hound in him. He is a very smart and loving dog. Thanks to Catherine, he still thinks it's okay to sleep in the bed with us every night which means: we need a bigger bed! He loves the kids and everybody for that matter. He just can't give enough kisses (so much so that you can feel the surface of his teeth on your face!). To save my marriage, we had to crate train my first dog. Milo just about ate the whole house! SO much personality. Miss Sunny is my love; she cries if she can't find me and sticks to me like glue! (one of the qualities I love about Shar-Pei.....loyalty). She can be protective of me and her stuff. Frankenstein has finally been replaced with "Mr. Bill"(from the old, old Saturday night live skits). He even says, "Oh, no, Mr. Bill" which scares Milo and stops him from destroying it! She demands a walk everyday with a bark and a smile - typical princess Shar-Pei. But I occasionally have to call home to come pick us up because she lays down and decides she's done - refusing to go any further. It's pretty cute, and all the neighbors thinks it's a hoot as they drive by and I'm there waiting for Heidi to come get us. Of course, she picks the plushest grass in the same yards every time to sprawl out on (we now have new yard friends).
~ Michael

Louie (aka Nacho)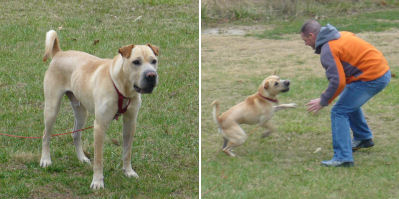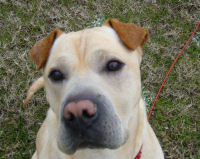 Louie is doing very well, and we are so happy to have him as a part of our family!
~ Kelly and Dave

More Hap-Pei Endings:
Page 1
-
Page 2
-
Page 3
-
Page 4
-
Page 5
-
Page 6
-
Page 7
- Page 8 -
Page 9
-
Page 10