If you have a story to share here about your Pei adopted from Shar-Pei Rescue of Virginia, please email photos and stories to us. Thank you for giving these wonderful Shar-Pei a second chance and for providing a loving, forever home.

Enjoy the "Hap-Pei" Ending stories!
More Hap-Pei Endings:
Page 1
-
Page 2
-
Page 3
-
Page 4
-
Page 5
-
Page 6
-
Page 7
-
Page 8
-
Page 9
- Page 10
Odie and Mick

Odie and Mick were rescued from an owner that kept them and another dog outside in a kennel. They were adopted into a wonderful home in MN where they are treated like royalty and receive the love and attention they so deserve. Sadly, Mick passed away due to cancer, but he was loved unconditionally in his new home.

Samurai (Sammy)
Samurai, or Sammy, is our adopted Shar Pei since March of 2008. Initially we were going to foster him while he recovered from surgery, however before he even went to see the vet we knew that we just had to adopt him. He has become a sweet and cuddly guy that loves to go for walks and runs around Philadelphia. There is not one walk or run where people don't comment on how cute he is. He also loves going for rides in the car and cuddling. We could not be happier with Sammy as well as with the Shar-Pei Rescue of Virginia.
~ Chris and Chrissy B.

Tucker
Tucker was rescued from NC and treated for heartworms before finding his furever home back in NC. He shares his new home with his canine sister Tulsa.

Molly (aka Angel) and Rooney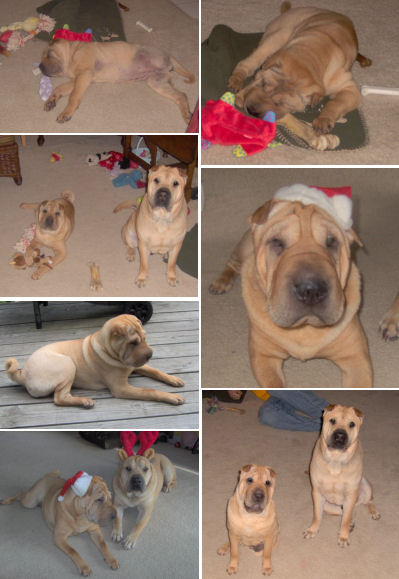 We rescued Molly (Angel in 2007).

The first time we saw Molly's picture posted on the website was the moment we knew we had to bring her into our lives to spoil her rotten and treat her the way she should have been treated from day one - like a Princess. Molly came to us shortly after having her back leg amputated due to neglectful previous owners. We were a little worried how she would do on 3 legs; but after running circles around her older brother Rooney (also a rescue) and doing stairs with no problem, it then put our minds at ease! Molly loves toys of all kind but especially likes tennis balls! She has her favorite doggie friends and loves all the boys! Molly is a great watchdog and lets us know when someone is passing by! She loves the little boy next door and showers him in kisses every chance she gets! We are so happy that Molly fit right into our pack and makes our days a little brighter every Sharpei Day!
~ Tricia, Scott, Brighid, Rooney & Molly

Coco (aka Chloe) and Lilah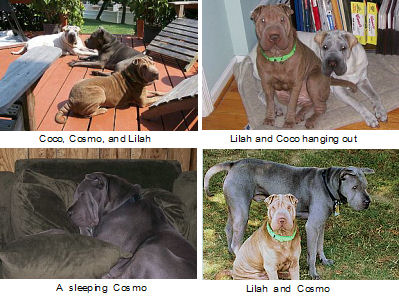 Coco (known then as Chloe) came to us from Shar-Pei Rescue of Virginia in May 2007. From the very beginning she was a perfect addition to the household which included Cosmo whom we had acquired in November. She quickly became the "town watch". No one or thing could get near our property without Coco alerting us. She is the sweetest of dogs, reminding some friends of a marshmallow. As Coco and Cosmo were so distintictive looking, we met many people who wanted to know about them. Coco loves to snuggle, chew her bones, sleep, and of course, have her belly rubbed. She occasionally makes the well known Shar Pei snort!!

Lilah joined the pack in July 2008. I can't even remember what our household was like when we only had two! She has so much love, spunkiness, agility, and personality. Although she is most likely less than a year old, she keeps Cosmo and Coco on their toes. Walking three of them is quite an enjoyable task. She has joined Coco as the leader of "town watch", and Cosmo quickly follows behind. Lilah's hobbies include chasing her other pack members, spying on the neighbors, and giving kisses to everyone she meets.

We could not be happier with our experience with the Shar Pei Rescue of Virginia and we thank them for the opportunity to open our home to such amazing puppies.
~ Patty and Tony

Coconut and Toby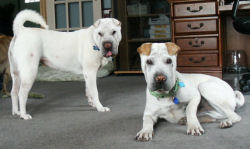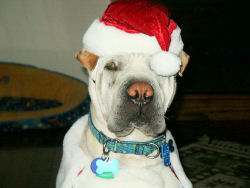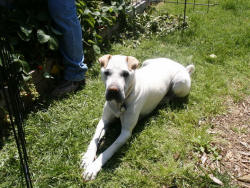 Coconut and Toby came to live in Virginia Beach in 2006.

Coconut has been through a lot in her short life and has decided that life here "ain't too shabby". She loves to eat, especially her vegetables. She once told meÖ"you can call me whatever you like, but PLEASE donít call me late for dinner". Coconut loves to play with Toby, Buddy and any other Shar-Pei that may need a foster home.

Toby is one of those rare Shar-Pei with great eyes and ears. Toby is the watch dog of the family. He will sound the alarm if anyone puts one foot in the front yard. He loves to chase Frisbees and tennis balls in the back yard. He will bring the Frisbee or the ball back for us to throw again and again. At the end of the day, he enjoys curling up in a comfy warm bed.
~ The Ferguson Family

Buddy
Buddy was adopted in January of 2004 and now lives in Virginia Beach. He is a sweet boy, but boy can he run! After an obedience class and four years of a stable home life, Buddy has settled down to be the nicest dog you could meet! Buddy loves to go outside and lay on the deck in the sun. He is very friendly with our human friends and he also shares his home with many other Shar-Pei. He is a wonderful dog and I am so glad that he is part of our family.
~ The Ferguson Family

Sabrina (aka Bonnie)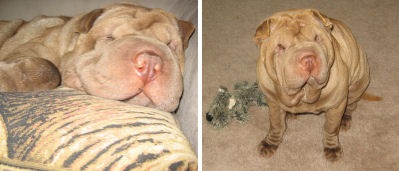 I adopted Sabrina (aka Bonnie) in April 2008; what a great dog! She shares her home with two other Shar-Pei – Lulu and Zanzabar. Sabrina is so pleasant and good natured; she is a joy to be around. She also is very well-behaved. She loves massages, her toys, and food – food being her favorite; and she is not picky at all. She gets so excited when it's walk time and loves to explore on our walks. She also is somewhat of a couch potato, loves her beauty-sleep. I'm so happy that Sabrina has joined our family. Thanks to Shar-Pei Rescue we are living in 'peiradise'.
~ Sherry H.

Kailey
We adopted Kailey from Shar-Pei Rescue of Virginia in 2006. We met her at the Barktoberfest in Long Beach Island and knew she was coming home with us!

She had been rescued from an animal shelter, and just wanted a family and a Pei-Mate of her own. She loves to play and snuggle, but mostly she loves to eat! She can hear the snack cabinet open from all corners of the house.

She has been a great companion for our six-year old Shar-Pei. He was very timid. Kailey has brought him out of his shell and they are inseparable...as you can see in the photos.

Kailey has been enjoying having lots of people to play with, sleeping on the couch, going for walks, having her belly scratched, riding in the car, and "helping" Mom in the garden.

We still wonder to this day why anyone would have let her end up in a shelter. She is such a sweetheart and has such personality. We are grateful to Shar-Pei rescue for saving her life and letting her become part of our family!
~ Mary Ann W. and Family

More Hap-Pei Endings:
Page 1
-
Page 2
-
Page 3
-
Page 4
-
Page 5
-
Page 6
-
Page 7
-
Page 8
-
Page 9
- Page 10