If you have a story to share here about your Pei adopted from Shar-Pei Rescue of Virginia, please email photos and stories to us. Thank you for giving these wonderful Shar-Pei a second chance and for providing a loving, forever home.

Enjoy the "Hap-Pei" Ending stories!
More Hap-Pei Endings:
Page 1
-
Page 2
-
Page 3
-
Page 4
- Page 5 -
Page 6
-
Page 7
-
Page 8
-
Page 9
-
Page 10
LeePing (previously Rudy)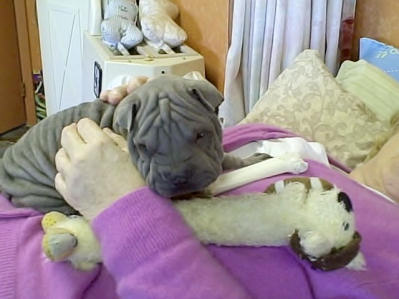 LeePing, previously Rudy, is very "hap-pei" in his new home in New Jersey!

Jersey Girl (previously Lea)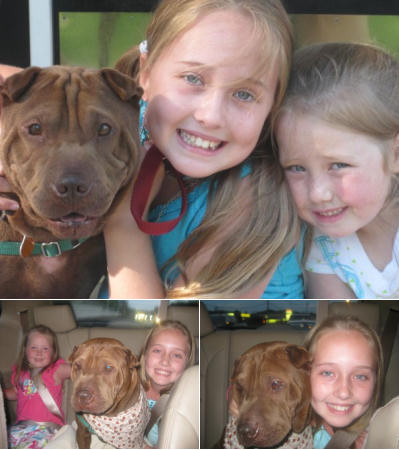 Lia, now called Jersey Girl, is doing wonderfully in her new home. She's receiving lots of love and attention from her new human sisters. She looks so happy!

Merlyn
Merlyn, now Mikey, has found his "fur-ever" home in Richmond, VA. He is enjoying playing with his Shar-Pei brother, Rocky, who was also adopted from Shar-Pei Rescue of VA.

Shep and Shea
Shep and Shea have adoptions pending and have found a new home where they can be "hap-pei" together!

Bubba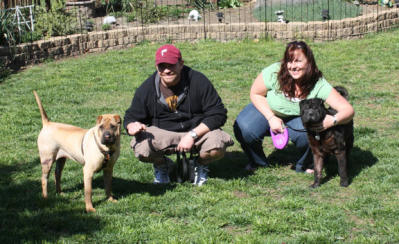 Bubba has found his "fur-ever" family, including a Shar-Pei "sister", in Pennsylvania!

Tanner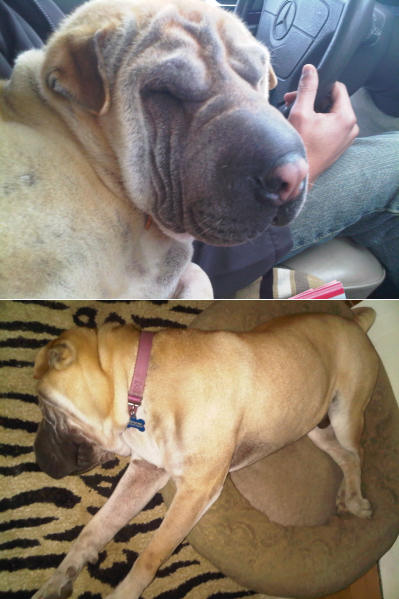 Tanner has settled in at his new home. His adoptive family also adopted Mallory (now Maude) in 2009.

Mickey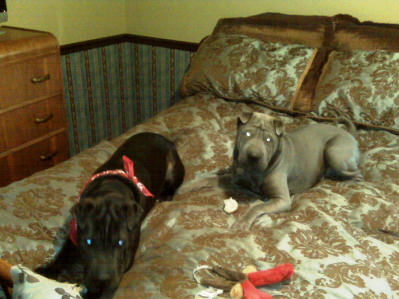 Mickey and his new brother, Mule, enjoy laying on the bed together. Things are going really good, and they are getting along great. Mickey really loves the treats he gets on a regular basis at his new home. He and Mule are sharing their toys, and his family is so glad they found the perfect brother for Mule.

Sophie (previously Blondie)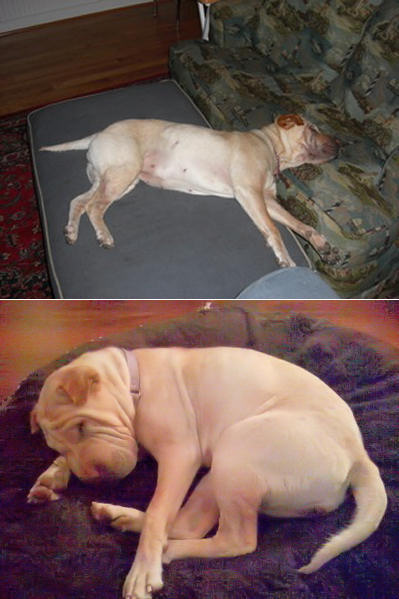 Blondie, now Sophie, is all settled in and very happy in her new home in Delaware.

Shay (previously Christy)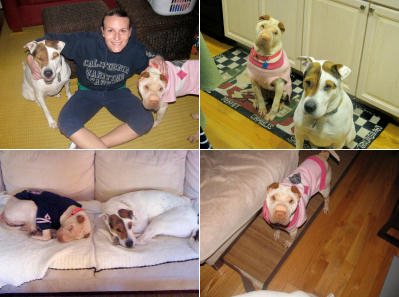 Things are going really well with Shay, we just love her! She is adjusting nicely and the girls are both getting along really well!
~ Kristin

Katie and Brutus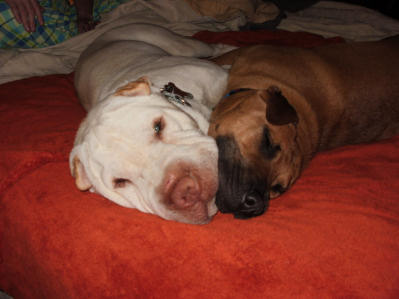 Katie's family fostered Brutus and adopted him in December 2009. Katie was adopted in July 2009. Katie and Brutus are so happy together!

Bella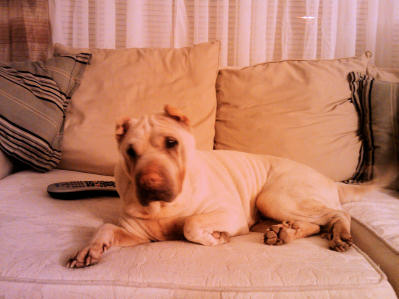 Bella has been adopted by a family in Virginia.

Bucky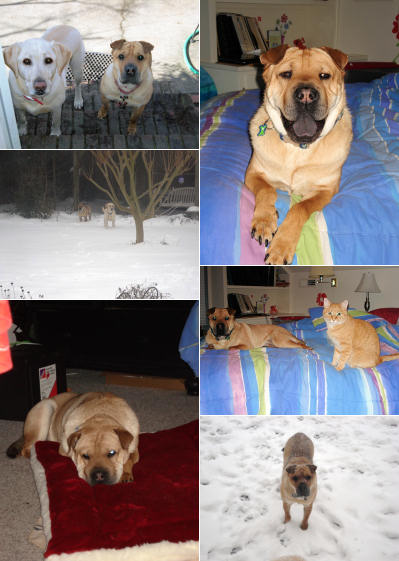 Bucky is very happy in his "furever" home in Virginia. He has a new canine buddy, Dixie, who he is having a great time with in his new backyard. Clarance, his feline sibling, and Bucky have now bonded to the point that Clarance will lick Bucky's head and tolerate him no matter how close or how fast Bucky darts at him.

Charlotte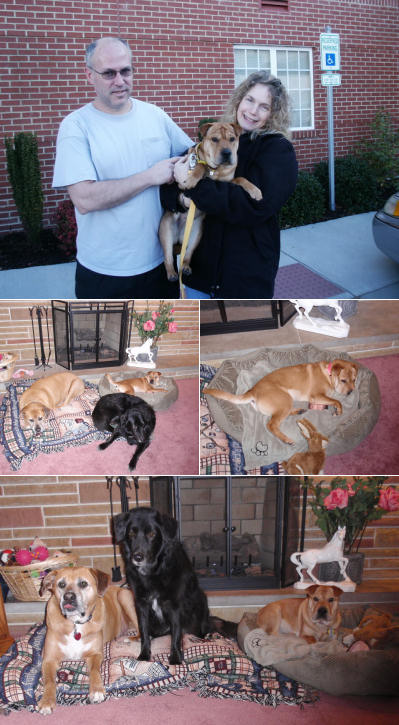 Baby Charlotte has a new "furever" home in Pennsylvania. She has two canine siblings, two human siblings and two equine siblings (she's not quite sure what to think of them yet).

Cona (previously Cooper)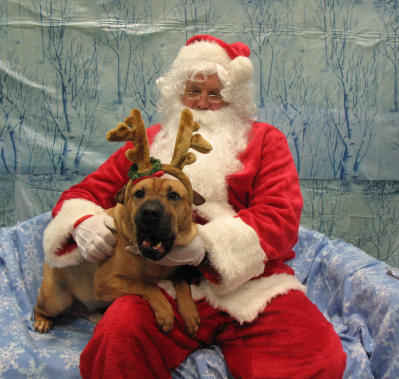 Cooper, now named Coda, sent Happy Holiday wishes from his new home in Virginia.

Jacob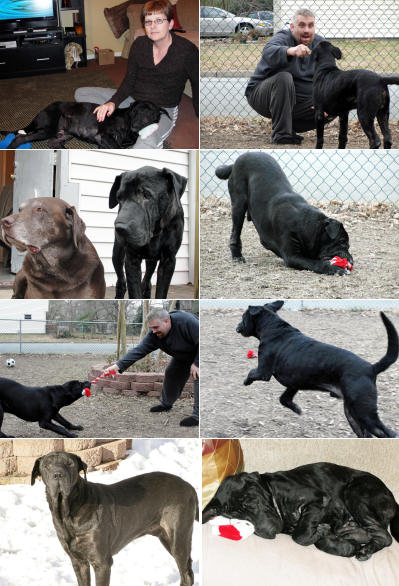 My husband and I adopted Jacob on December 18, 2009. We lost our beloved yellow lab Dutch to cancer in September and were looking to give a home to a rescue dog. We absolutely adore Jacob, and the feeling seems to be mutual. He is such a sweet, lovable dog and has already become a spoiled momma's boy. He gets along fine with his new big brother Cyrus, our chocolate lab, and often follows him around. He came to us with many fear issues and didn't seem to want to play much, but each day he seems to get just a little bit better, and we hope that with time, love, and attention, he will some day let go of those fears and know that he is in a safe, happy place for the rest of his life. But even after just a month, it seems like every day he does something unexpected that both delights my husband and I and fills us with pride at the progress he has made in such a short time, whether it be suddenly picking up a toy and running and playing with it or venturing into the kitchen alone (a big fear) for just a moment to investigate something. He seems so comfortable with us already, it is as if he was meant to be a part of our family, and we couldn't be happier about that.
~ Many Thanks, Penny & Jared Wiemann

Stormy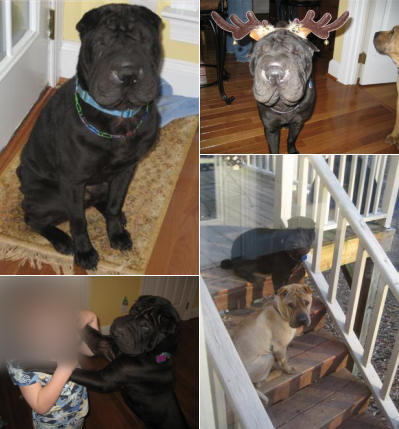 Stormy is incredibly sweet and we love having him in our family. Stormy is great with the kids and is amazingly calm and gentle with them. He and Simba seem to be doing well together. Stormy loves to run and play in the backyard. He is such a treat for us to have in our lives!

More Hap-Pei Endings:
Page 1
-
Page 2
-
Page 3
-
Page 4
- Page 5 -
Page 6
-
Page 7
-
Page 8
-
Page 9
-
Page 10