Back to Home Page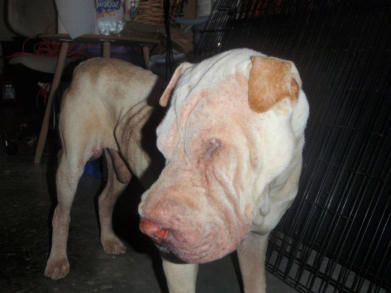 This poor guy, Cezar (now known as Beau), was neglected and abused. We're not sure what happened to his tail. It appears that it may have been inflicted by a person. Our goal has been to get him healthy and find him a forever home.

WARNING: These pictures taken when Cezar was rescued are very graphic.

Please see Cezar's blog below for his story.

Fundraising Update: The final bills for Cezar's medical treatment have come in. These are in addition to the many bills already paid. While we received many donations for Cezar, we are short about $3,000. We are having a fundraiser for Teddy and Cezar (now Beau). Please visit Teddy Bear and Cezar's donation page for more details or to donate. Donations will be greatly appreciated!

Update 6/15/2010: Thank you to Cezar/Beau's Facebook friends for your support! We have received several donations for Teddy Bear and Cezar/Beau and are now almost 2/3 of the way to our goal!

Update 8/8/2010: The fundraiser for Cezar/Beau and Teddy Bear is still ongoing. We still have a ways to go to reach our goal and cover most of the veterinary expenses for these two Pei-bies. Please keep spreading the word!

Update 10/1/2010: Cezar has been officially adopted; however, we are still working to raise the funds to cover his veterinary expenses. Donations are still greatly appreciated.


10/1/2010
Cezar, now Beau, has been officially adopted!


6/21/2010

Here are some new pictures of a "Hap-Pei" and healthy Cezar/Beau enjoying the good life! He looks great! Many thanks to everyone for your continued support for Cezar, now Beau, and our other Pei-bies.


2/21/2010
Beau is all settled in at his new home and has an adoption pending! He is recovering well from his rectal surgery. Thank you to everyone for your support!


1/16/2010
From Cezar's Foster Mom: Beau was released from Georgia Veterinary Specialists today to go to Tim and Janie's house in Georgia where he will be staying for the next 2 weeks until he goes for his follow-up and to have his stitches removed. Let s hope that everything goes well over these next 2 weeks and the surgery has fixed his problems once and for all.


1/15/2010
From Cezar's Foster Mom: Beau had his surgery yesterday at Georgia Veterinary Specialists. They did remove the one anal gland that was found since it did not have an opening to drain and would cause reason for more surgery in the future. They did go though the abdomen and fixed the rectal prolapse hopefully for good. He did have another piece of dead bone that they found from the initial injury. Their only worry is if he may have some incontinence or not. I do not know why this would be since he never has been. They are keeping him at the hospital until Saturday.

Keep hoping good thoughts for him for a wonderful and speedy recovery.


1/8/2010
From Cezar's Foster Mom: Tuesday, Cezar (now Beau), had a problem...his rectum started to fall out. By the time Wednesday night came around his rectum fell out about 4 inches. This is called rectal prolapse. He went into surgery Thursday morning and did very well. Please pray that this works and that the prolapse does not return.


12/10/2009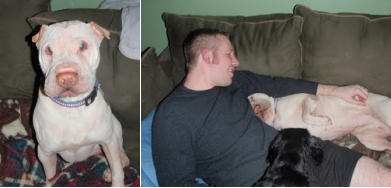 12/5/2009
From Cezar's Foster Mom: Cezar, now Beau, has been fostered in his new home for the last 2 weeks. He is now back with me so that we can finish his medical care (neuter and eye surgery). He will be returning to his new home on Thursday. His new mom and dad report that he has been doing great and loves snuggling. They say he has his own spot on the couch and that him and their other shar pei mix name Jake LOVE each other. I will take some more pictures of him this week and will keep a close follow-up with his new mom and dad.


11/16/2009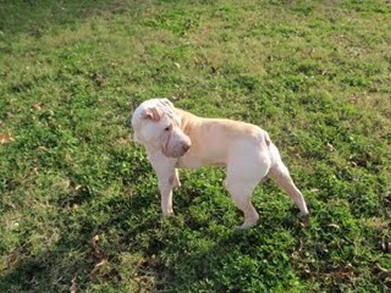 From Cezar's Foster Mom: So it has been over a week since Cezar had his heartworm treatment, and he is doing wonderful. He is still his sweet self whining when he is not getting enough attention. His backend wound has now completely healed and he just has some tissue swelling around his rectum that will continue to improve with time.

As for the abuser...he was pressed with felony charges and as of last week the DA was planning to arrest him to serve jail time.


11/5/2009
From Cezar's Foster Mom: Hello All!! I picked up Cezar from the vet today. He went in yesterday and received his first injection, spent the night at the vet, and had his second injection today. I picked him up about 2:30 and he has been doing great. He is staying in the guest bedroom where he can be nice and quite away from all of the other crazy doggies here. Continue to keep him in your thoughts and prayers for a great recovery!


10/29/2009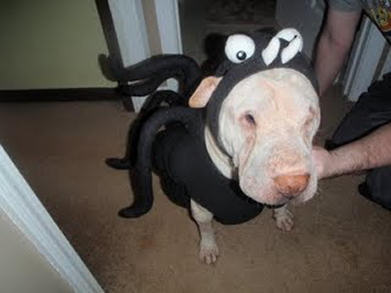 Cezar is up to 51 pounds, that is 11 pounds since he was first rescued. His wound is looking great. His blood count is back to normal. We are starting his heartworm treatment on Wednesday and then in a month we will do his neuter and eye surgery.


10/24/2009

It has been 3 weeks and Cezar is doing AMAZING!!!!! He is such a happy and friendly boy. He is definitely spoiled and loves to EAT! We are just need to make sure we do not make him overweight as much as he likes to eat. We are hoping that we can start his heartworm treatment this week since his wound is doing so great. Hopefully in the next few days it will be healing in even more. We are keeping him on antibiotics until the wound is gone.

Cezar will be staying in his current foster home in NC. There is a family in that area that is waiting to adopt him.


10/16/2009
Cezar went to the vet yesterday for his follow-up. The vet is very impressed at how well he is healing. His wound is closing in very well. He has gained five pounds and you can no longer see all of his bones, just a few ribs now. He has been eating three meals per day and has a wonderful appetite. He has became more vocal since he is feeling better and actually will whine when he wants to go outside, eat, or get petted.


10/11/2009

10/7/2009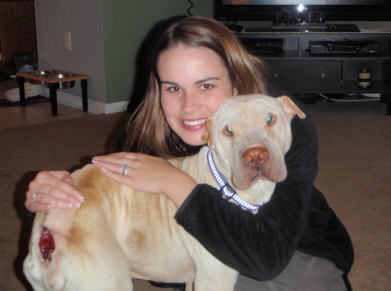 Cezar is looking so much better! He listens very well and has been such a sweet boy to have around. Cezar had his chest x-rayed for the heart worms. The vet says his heart is NOT enlarged and things look promising.


10/6/2009
We found out today that Cezar is heartworm positive :-( Not a surprise considering the condition he was in.


10/5/2009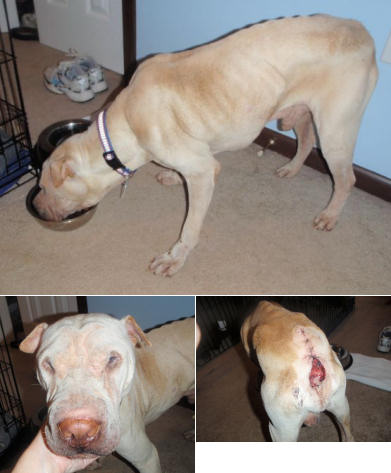 From Cezar's Foster Mom: Cezar came home from the vet today. The vet said that he has done great and thinks things look very positive for him. He thought it would be a good idea for me to bring him home today and keep him here until his wound heals some more. The vet did put some stitches in the wound. He would hate to see for it to pop back open from too much movement. And I am ok with that, he has been a love. There is still a chance that he may need rectal surgery once the wound starts to heal more, but that will depend on how the scar tissue grows. He has not had a bowel movement since I rescued him on Saturday. The vet tech said that he was such a doll and a very pleasant dog to have around; she even gave him a sponge bath. We came home and walked around outside where he urinated like a good boy and then came in for dinner. He has a great appetite. I got more kisses after his dinner. He is on antibiotics, pain mediations, and antibiotic ointment for his eyes. He will still need eye surgery for his entropion along with his neuter. We will have the results of his heartworm test tomorrow.


Back to Home Page