Back to Adoption Page


The Shar-Pei in our Courtesy Listings are not a part of or associated with Shar-Pei Rescue of Virginia. They are shown on our website as a courtesy to shelters, other rescue groups and individuals who have dogs that are looking for a new home. The information listed for each dog was provided by individual caregivers, shelters or other rescues. Since we have not seen or evaluated these dogs, we cannot make any representation or take responsibility for any dog's temperament or health. Shar-Pei Rescue of Virginia encourages potential adopters to gain as much information as possible before adopting these dogs, including but not limited to temperament testing, consultation with a trainer, and consultation with a veterinarian.

If you are interested in adopting one of these dogs, please contact the caregivers of the dog by email or phone provided below.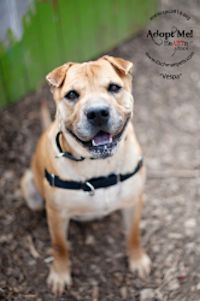 Vespa is about 3 to 4 years old, spayed, up to date on vaccines, and microchipped. Vespa is an independent dog. She's very mellow and easy to care for. She is a loyal dog who is friendly with everyone she meets, although she has never been tested with kids, only adults. When Vespa hangs out in the office, she enjoys playing with her toys. She walks very well on a leash and does not pull. She is extremely food motivated, well trained, and house broken. She is not fond of other dogs, but she is not dog reactive when they pass by.

Vespa is in Westchester, NY and is looking for a furever home. If you are interested in adopting Vespa or need more information, please call the SPCA of Westchester at 914-941-2896 or email lisa@spca914.org.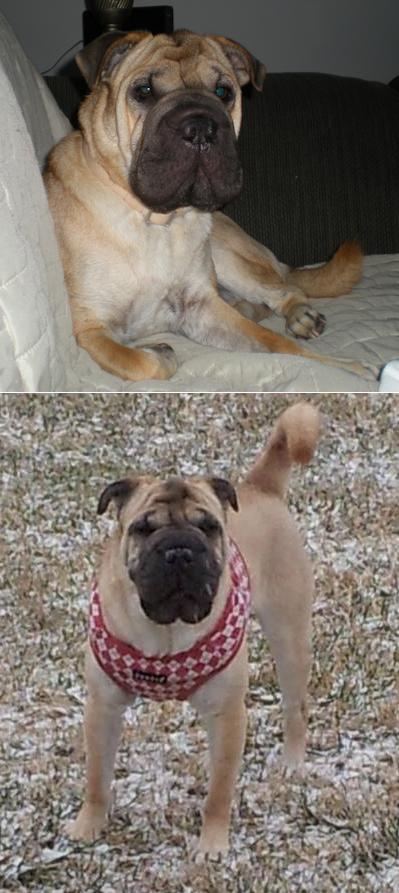 Bella is an adorable, three year old, spayed female. Bella's owner is looking for a new home for her. Bella is fine with people and loves other dogs, but she is shy and takes awhile to warm up. She is up to date on all shots and flea/tick and heartworm preventative.

Bella is in Richmond, VA. If you are interested in Bella please e-mail vikizaw@yahoo.com.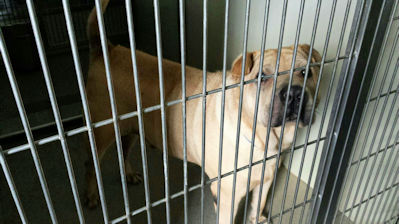 Bobo is a handsome, sweet eight year old Shar-Pei. He is at a shelter in southwest Virginia and is hoping for a furever home.

Bobo is in Pulaski, VA. If you are interested in Bobo please e-mail phall@pcva.us.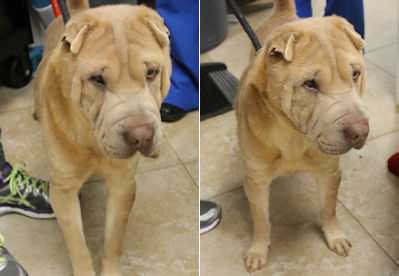 Sharpei (yes, that is his name) is a three year old male Shar-Pei. He is a nice boy but does not like to have his ears touched. Sharpei is looking for a home where he can be the only dog and give and get all of the lovings.

Sharpei is in Hilton Head, SC. If you are interested in Sharpei please e-mail adoptions@hhhumane.org or call 843-681-8686.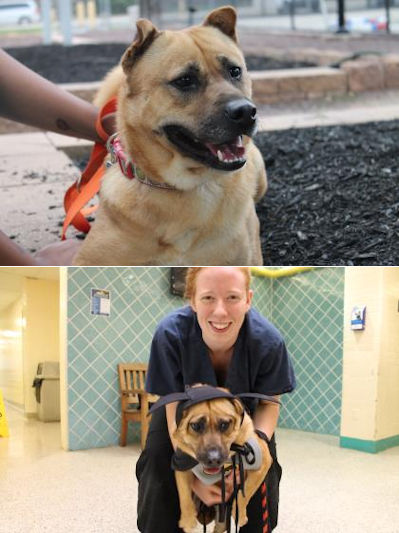 Mimi is a free agent! For entirely too long Mimi has been sitting on the sidelines waiting to find a coach who will make her the all-star that her friends at Pennsylvania SPCA know she can be! Over a year ago Mimi came into the Pennsylvania SPCA facility with her pups, and all those rookies found their way to a new team but Mimi was left behind. Mimi hasn't let that effect her training though. Mimi is in great shape and loves to run and even does a bit of agility work in the training yard. She's not adverse to hard work, and she's already used to eating a special diet so there are no worries that Mimi won't be in shape. Mimi just needs someone to give her direction, training and a sense of belonging. Mimi used to get over excited in the kennels and accidentally nipped someone who had his fingers through the gate, and that has made many teams pass her by. Mimi takes some time to warm up to new people; but once she does, she's by your side like you would want your teammate to be. If you think you might be the coach she is looking for and if your team soes not have any small children, please contact the Pennsylvania SPCA to meet Mimi.

Mimi is 4-5 years old and 46 lbs. She is at the Pennsylvania SPCA in Philadelphia, PA. If you are interested in Mimi, please e-mail jbrodsky@pspca.org.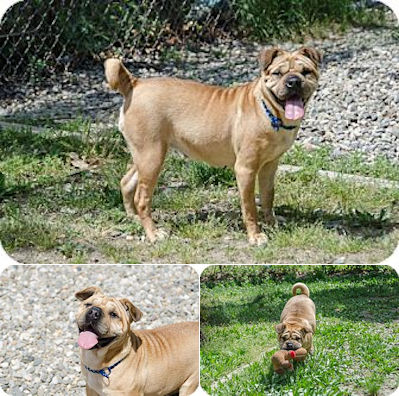 Gemma is a two year old shar-pei/pug mix that sadly has been bounced around through three different homes. Originally purchased from the pet store for a large amount of money, her owners had a baby and started to leave Gemma outside. Once the weather became cold, a family member felt bad for Gemma and took her home; but there were allergies in that home. Gemma's third home came to an end when they were moving to a place that did not allow animals. So, now Gemma sits waiting at the Jersey Shore Animal Shelter for what she hopes will be a forever family.

Gemma recently had her double eye surgery, as well as the cherry eye surgery, and she also got spayed. Gemma looks great and can finally see without being in pain! The vet did say that unfortunately she will need to be on a lifetime of eye meds because she was born without a natural tear production. She cannot produce tears on her own to help keep her eyes lubricated which can lead to other problems. Please do not let that affect your decision on giving this sweet girl a 4th chance! She deserves a loving home that will understand her medical needs and to show her love that she has not experienced.

Gemma would do best as the only pet. Jersey Shore Animal Center is unsure of her house breaking status, and she could use some obedience training. They are looking for a family with dog experience for their sweet Gemma. (Kids 10+)

Gemma is at the Jersey Shore Animal Center in Brick, NJ. If you are interested in Gemma, please e-mail info@jerseyshoreanimalcenter.org.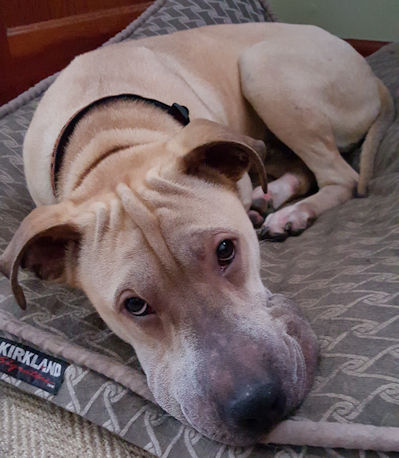 Hi there! My name is Ruger, but my foster mom calls me Buddha. She enjoys my playful nature and gentle kisses, but wants to tell you a little more about me, so I might be lucky enough to find a furever home that I can call my very own...

Buddha is a young, sweet, and playful Shar-Pei mix (the vets think he has some lab in him) that loves his people more than any foster I've had. He's true to the Shar-Pei breed, and extremely loyal! He's a low to medium energy dog that is best behaved when he gets a short walk or little exercise each day, but he doesn't need much. He's house trained, crate trained, knows basic commands, and has never torn anything up in our home; but he's crated when we're not there. He loves bones and rawhides and running after sticks! Buddha has gotten along with every dog he's met, with proper introductions. He currently lives in a home with three older dogs and is quite the respectful younger foster brother and takes corrections well. However, he does show some leash reactivity around other dogs, and will need ongoing leash work. I've also seen him assert more dominance with younger dogs, but is easily corrected when needed. We don't have children or cats, so it's hard to say how he would do in a home with cats or kids, but he seems very curious around small children and may do better in a home with older children. Buddha loves car rides, and we take him to work and run errands as often as we can. He's protective of us though, especially when he's in the car and can be skeptical of new men. He's food motivated which makes him easily trainable and the more socialization he's had, the more trusting he's become. He's blossoming into a wonderful dog, and I want so badly for him to find the right home that is permanent so he can continue to learn how to be the best dog ever!

Buddha is in Raleigh, NC . If you are interested in Buddah, please e-mail sarahf0305@gmail.com or look him up on dogwarriorsrescue.com.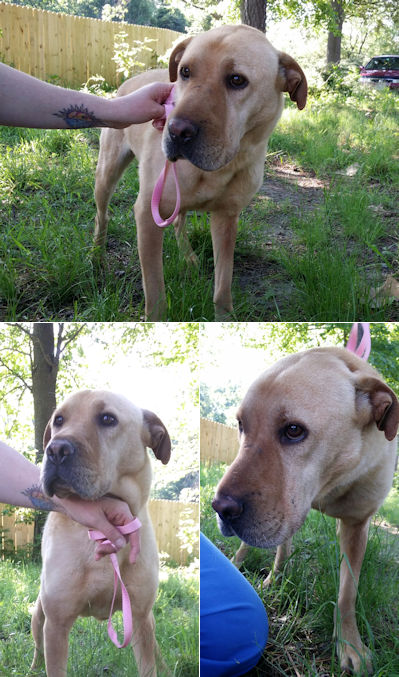 Tori is a 5 year old Sharpei / Yellow Lab mix. She had lived her whole life in North Carolina with 7 other dogs at the residence of an older single woman. Unfortunately for Tori, her owner's health was failing and she had to be placed in a retirement home, displacing Tori and all of her other housemates. The rest of Tori's previous housemates have been rehomed but sadly she has not found her new forever home yet.

Tori now resides in Richmond, Virginia in a temporary living situation at Locke A. Taylor, DVM Inc. She is spayed and has up to date vaccinations.

Tori is cautious, shy, quiet, and sweet. She is used to living with other dogs, but would also enjoy being the only dog in the home. She responds well to slow movements and gentle words. She would be best placed into a home without children, or with older children who understand shy dogs. She would love for her new owner to be calm and patient and willing to work with her to make her feel safe and happy in her new home.

If you are interested in Tori, please e-mail frontdesk.locketaylor@gmail.com or call Debbi Sue at 804-615-3944.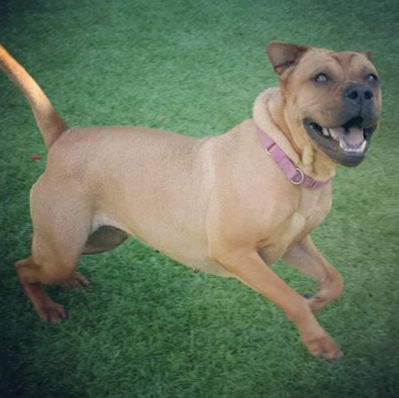 My name is Zena and my two most favorite things to do are smile and wag my tail.followed closely by being with my human. I am an amazingly cute pug and shar pei mix **don't even ask**. I am between 2 to 3 years old and I simply ADORE all people. I enjoy walks and even jogging with my foster mom. I am fully vetted, crate trained and.wait for it.house trained. Did i mention i smile all time? I AM GREAT WITH KIDS! Sorry for shouting but folks think this is important. I simply just love to be with my people. In the interest of full disclosure, I need to be an only dog.which brings me back to early socialization. I would love to explain, what, in my history, caused this quirk but I cannot. I am not a fan of other dogs or even kitties. My foster mom thinks it's because i was never properly socialized.but I am a work in progress..and I am correctable in public.I am just not ready to co exist with another dog or kitty. My foster mom would love the opportunity to sing my praises..except she can't sing. I believe my forever family is looking for me as I wait patiently for them. Give me a chance.I won't disappoint.

More photos and videos of me! If you are interested in Zena, please e-mail allmuttsmatter@comcast.net.

This is Beau. He is a 6 year old, pure bred, shar-pei. He is neutered and house trained. Beau loves to lay outside in the sun, go on walks, and curl up on his bed at night. He has impeccable training, loves playing with other dogs, and is very gentle with young children! Beau does have some skin allergies that are common to shar-pei's, but it's nothing a little grain free food can't fix!

If you are interested in Beau, please e-mail dana.jo.wyman@gmail.com or call 507-272-8974.